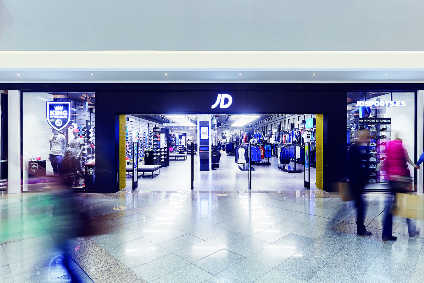 In a trading update today (22 September), JD Sports Fashion struck a cautious note as widespread macro-economic uncertainty, inflationary pressures and the potential for further disruption to the supply chain continue to weigh.
In its first-half results, pre-tax profits amounted to GBP298.3m (US$337m), down from GBP364.6m a year earlier.
The retailer said trade in the UK, principally online, softened in August and early September. Pre-tax profits in the UK and the Republic of Ireland were down to GBP153m from GBP174.2m. There was a return to profit in the sports fashion retail fascias in Europe, which contributed to a profit of GBP57.1m from a loss of GBP7.2m a year earlier.
In North America, however, earnings were down to GBP130.4m from GBP245.5m reflecting trading conditions in the US as a result of the Federal fiscal stimulus in the prior year and the supply chain challenges of certain international brands which has led to reduced availability of key footwear styles, particularly in the first quarter.
Total sales, meanwhile, reached GBP4.42bn from GBP3.88 a year earlier.
JD Sports Fashion recently welcomed Régis Schultz to the group as CEO. The company also announced this week that Peter Cowgill, the former ousted executive chairman, is to return to JD Sports as a consultant in a move analysts say will help the retailer continue its impressive outperformance.
In its trading update today, non-executive chair Andrew Higginson said: "Whilst the overall performance continues to be encouraging and the result for the half year was at the upper end of the board's expectations, it must also be recognised that the most material trading periods lie ahead. Given the widespread macro-economic uncertainty, inflationary pressures and the potential for further disruption to the supply chain with industrial action a continuing risk in many markets, it is inevitable that we remain cautious about trading through the remainder of the second half.
"Despite this, the board maintains its view, at this point, that the headline profit before tax and exceptional items for the year ending 28 January 2023 will be in line with the record performance for the year ended 29 January 2022."
Apparel analyst for GlobalData plc, Pippa Stephens, said: "North America was the group's weakest region in H1 FY2022/23, where revenue fell by 4.2%. Though this was primarily due to strong comparatives as a result of stimulus payments in the US during the prior year, it was also impacted by supply chain issues of key footwear styles. Since consumers often have a particular style of trainer in mind that they want to buy, they will have simply looked elsewhere if JD Sports did not have it in stock. However, now that global supply chain issues are gradually easing, sales in this region should hopefully pick up again in H2.
"While retailers across the UK & ROI and Europe have been experiencing tough trading as the surge in inflation rates drives consumers to focus spend on essential goods, JD Sports still recorded impressive growth of 19.8% and 26.9%, in each region respectively in H1. While the retailer's sport specialism is still likely to make it more favourable than competitors going forwards, it will not be immune to the harsh macro-economic environment, which is expected to get even worse in the final quarter of 2022 and 2023, especially since any price increases will largely be dictated by its brand partners."