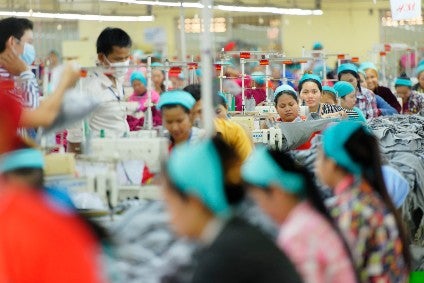 Cambodian unions have written to global clothing firms Gap, Puma, Nike, Adidas, Uniqlo, Levi Strauss and VF Corp urging them to sign up to the ACT (Action, Collaboration, Transformation) living wage initiative and collectively link their international purchasing practices to the development of national industry-wide collective agreements.
The companies have been warned that by not doing so they are directly jeopardising negotiations towards an industry agreement in the garment sector – and that failure to pool their sourcing leverage with the other ACT brands "is now having a detrimental impact on all Cambodian garment workers."
At the heart of their concerns is a recent decision by the Garment Manufacturers Association in Cambodia (GMAC) to withdrew from negotiations with trade unions for an industry-wide collective agreement that would raise wages and working conditions across the sector.
According to the unions, GMAC said it would not be able continue with the negotiations without more international brands and retailers signing on to ACT.
But GMAC secretary general Ken Loo has told just-style the country's employers "are not in any position to engage in these conversations with the uncertainty of [the potential loss of the European Union's Everything by Arms (EBA) trade preferences] hanging over our heads.
"This, coupled with the fact that total wages in 2019 have increased approximately 20%, makes it an almost impossible situation."
However, he adds: "We remain committed to revisit [a sectoral agreement] when there is more clarity over the EBA situation."
In a letter to members of the Trade Union Negotiation Council for the garment sector's Collective Bargaining Agreement (TUS-CBA) earlier this year, GMAC elaborated on its decision to suspend discussions.
"Wages in Cambodia in 2019 will increase about 20% as compared to 2018," it said. "This is taking into account the 7% increase in the minimum wage, the burden of seniority payments for both the current year as well as past seniority (5%+5%), as well as the impending pension fund contribution (4%) to be implemented in the later part of this year."
Another challenge facing the industry is the possible loss of the Everything by Arms (EBA) trade preferences – which currently give Cambodia's exports duty-free access to the European Union market.
The European Commission in February started the process that could lead to a temporary suspension of preferential EBA tariff arrangements – which can be removed if beneficiary countries fail to respect core human rights and labour rights. The EU has for some time been concerned about human rights violations in Cambodia.
"In view of the above factors, we feel that we currently do not have any capacity and ability to engage further in discussions that will add more financial burden to our sector," GMAC explains.
The group adds: "We welcome the opportunity to re-engage in later years when the future of EBA is secured and when the sector is in a better financial position to consider additional benefits for our workers."
Nevertheless, the unions point out to the brands that if their goal is to achieve a living wage for garment workers, the ACT process provides a unique opportunity to strengthen the industry and to improve wages for workers through sectoral bargaining.
And they say that by not making the same commitments as ACT member brands to support an industry-wide agreement through their purchasing practices, these brands are fundamentally contributing to the Cambodian suppliers' decision to withdraw from the negotiations.
"The Cambodian unions are understandably frustrated that their efforts to negotiate an industry wide collective agreement that will improve wages for garment workers are being undermined by brands that state their support for living wages but have not yet made the commitments necessary to achieve them," says Jenny Holdcroft, IndustriAll assistant general secretary.
"It is widely recognised that ACT represents the best chance to make a real difference to garment worker wages, but this requires the support of all leading companies."
Cambodia is a strategic supplier to many of the world's largest garment, footwear, and travel goods companies. It was the sixth largest garment supplier and the fourth largest footwear supplier to the US last year, and the fifth largest garment and footwear supplier to the European market.
Sales to Europe and the US combined in 2018 reached US$$8.5bn, or more than one-third (38%) of Cambodia's total Gross Domestic Product (GDP). Further, apparel, footwear, and travel goods account for 80% of Cambodia's total exports.
ACT (Action, Collaboration, Transformation) is an initiative between international brands and retailers, manufacturers, and trade unions to address the issue of living wages in the textile and garment supply chain. It aims to improve wages in the industry by establishing industry collective bargaining in key garment and textile sourcing countries, supported by world class manufacturing standards and responsible purchasing practices. Brands participating in ACT include Esprit, Arcadia, N Brown Group, Tesco, Pentland, Debenhams, C&A, Topshop/Topman, Inditex, Tchibo, ASOS, H&M, Primark, New Look and Next.