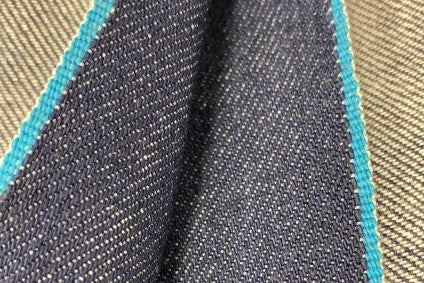 US-based Cone Denim has unveiled a new selvage denim fabric in support of efforts to end the global water crisis and increase access to clean water around the world.
The company's Clean Water denim is made from Organic Content Standard (OCS) certified 100% organic cotton with comfort stretch and dyed using Distilled Indigo, part of Cone's eco-friendly dye technologies. It also features a teal selvage ID. for water conservation awareness.
Cone will donate a portion of proceeds from the sale of its newest Community Collection fabric to international non-profit Water.org.
President of Cone Denim Steve Maggard hailed the firm's efforts to drive sustainable innovation and produce denim in a way that uses less water and fewer chemicals, minimising environmental impact and returning cleaner water back into the environment.
"Our Cone Community Collection denims are fueled by the spirit of collaboration. From passionate discussions across our design team, to partnerships with our sister brand American & Efird to supply the teal ID. yarn to selecting Water.org to receive donations from the sale of our Clean Water denim, our goal is to inspire and empower people through dialogue, collaboration and action to raise awareness for key social issues."
Cone partnered with antimicrobial solutions provider Noble Biomaterials last month to develop a new denim fabric using Noble's Ionic+ technology, which harnesses the power of positive ions embedded in yarn fibres to inhibit the growth of bacteria and microbes on the surface of fabric.