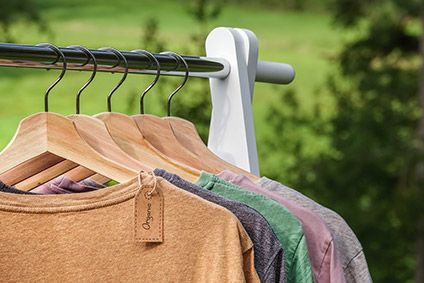 A new survey has revealed that most shoppers hold apparel brands accountable for what happens in their supply chains – but do not trust them to self-police or communicate accurately what is really going on.
The international Ipsos Mori poll of 7701 people across seven countries – the US, UK, France, Germany, Italy, Poland and Spain – conducted on behalf of campaign group the Changing Markets Foundation, quizzed respondents on their purchasing habits, and how their choices related to sustainability, as well as perceptions of sustainability and social issues within the fashion industry and brand supply chains.
The "perception of supply chain issues" focused on the viscose supply chain as part of an ongoing campaign by Changing Markets Foundation. Viscose is a plant-based fibre that's an increasingly popular alternative to cotton or synthetic products. But viscose production uses toxic chemicals that have been shown to harm the environment and peoples' health if not properly managed. The survey revealed:
Close to three-quarters (72%) of the public believe clothing brands should be responsible for what happens in their manufacturing processes.
Seven in ten (68%) believe brands should have to provide information on their viscose manufacturers and how it affects the environment.
A further seven in ten (68%) believe brands should have to provide information on their viscose supply and how it affects the environment.
Less than one-quarter (23%) say they would believe a brand that said it was difficult to know the methods its viscose suppliers are using; and one in five (21%) would believe a brand if it said it was difficult to know who its suppliers of viscose are.
Questions regarding apparel brands revealed interesting feedback. In general, very few respondents trust sustainability information provided by an apparel brand themselves.
One in five said they feel informed about the fashion industry's environmental and social impacts.
The majority of consumers (56%) would be put off buying from a brand that was associated with pollution in its manufacturing processes.
Overall, two in three consumers (64%) agree that factory workers are paid low wages by the industry and around half (52%) would be put off if they found out brands were not paying factory workers a fair living wage.
Three in five (62%) agree that they would pay 2-5% more for more expensive items of clothing, while just over half (51%) would pay 5-10% more for cheaper items if it meant factory employees were paid a fair living wage.
Around two-thirds of consumers (67%) find it difficult to know which clothing brands or companies meet higher ethical standards.
Around two in five do not know if any of the brands listed (H&M, Nike, Zara, Hugo Boss, Gucci, ASOS, Primark, Gap) are associated with a sustainable supply chain. A quarter (26%) do not think any of these brands have a sustainable supply chain.
Commenting on the results, Urska Trunk of the Changing Markets Foundation says: "This is the most comprehensive consumer survey to date looking at perceptions of environmental and social standards in the clothing industry. It shows that people expect brands to take responsibility for what happens in their supply chains, both in terms of their workers and the environment. All the indications are consumer mindsets are changing: they want more accountability, and more information and they are increasingly putting their money where their mouth is."
The findings come amid rising calls for the UK fashion industry, which contributes GBP28bn to UK GDP annually according to the British Fashion Council, to become more sustainable and transparent. A recent parliamentary inquiry into the sustainability of the fashion industry has heard evidence about the environmental footprint of clothing, forced labour in fashion supply chains and textile waste. According to the Ethical Consumer Markets Report 2018, last year also saw an almost 20% jump in the market for ethically-produced clothing and a 22.5% increase in second-hand clothing purchases, indicating that consumers are increasingly acting on their environmental concerns.