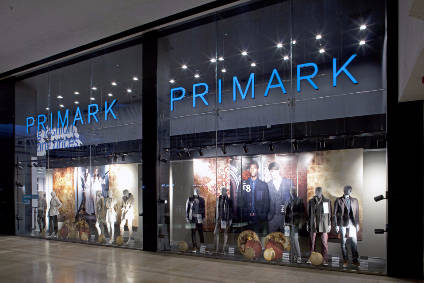 The owner of value fashion retailer Primark has warned that prolonged delays to factory production in China as a result of the coronavirus (Covid-19) outbreak could lead to supply shortages on some lines later in its financial year.
In its pre-close trading update today (24 February), Associated British Foods (ABF) notes Primark sources a broad assortment of its product from China.
"We typically build inventories in advance of Chinese New Year and, as a consequence, are well stocked with cover for several months and do not expect any short-term impact. We are working closely with our suppliers in China to assess the impact on their factories and supply chains and their ability to fulfil our current orders."
However, ABF adds: "We are assessing mitigating strategies, including a step-up in production from existing suppliers in other regions."
The update comes as sales at Primark are expected to be 4.2% ahead of last year for the 24 weeks to 29 February, and 2.5% ahead at actual exchange rates, driven by increased retail selling space and level like-for-like sales.
In the UK, the retailer delivered a further increase in its share of the total clothing, footwear and accessories market, with domestic sales expected to be 3% ahead of last year, driven by a strong contribution from new selling space partially offset by a 1.3% decline in like-for-like sales. Trading was particularly good over November and December but weakened in January and February against very strong comparatives in the prior year, it said.
Sales in the Eurozone are expected to be 5.3% ahead of last year at constant currency with particularly strong sales growth in France, Belgium and Italy. Like-for-like sales for the region were 0.5% ahead, driven by "excellent" like-for-like sales in France and Italy and a notable improvement in Germany.
Business in the US continued to perform strongly, delivering like-for-like sales growth, with particularly strong trading at the store in Brooklyn. Together with the contribution from planned store openings at American Dream, New Jersey and Sawgrass Mills, Florida, Primark expects a much-improved operating result for the year.
As expected, margin was lower in the first half than in the same period last year, with purchases this year contracted at a much stronger US dollar exchange rate than last year. The effect was "substantially mitigated" by both reduced markdowns and reductions in the costs of goods, primarily lower materials prices.
ABF adds foreign exchange contracts are in place for most of its second-half purchases, at an exchange rate in line with those for the second half last year. As a result, it expects second-half margin to be in line with the prior year, and full-year margin only slightly down.
With the expected decline in margin, operating profit is estimated to be marginally down on last year at constant currency and on a lease-adjusted basis. On a reported basis operating profit will be ahead of last year.
What the analysts say
Pippa Stephens, retail analyst at GlobalData, notes that with over half of Primark's suppliers located in China, the retailer must accelerate its efforts to shift production to existing factories within other regions to mitigate the risks of long-term factory closures. "It must ensure that any cost price increases are not passed on to the consumer, as this will jeopardise its value appeal," she says.
"It should also seek new suppliers where possible; however, it may struggle to easily find factories that have the capacity to meet the large bulk orders it places to fulfil its huge estate. Primark should also ensure it demonstrates transparency around any changes to its supply chain, as consumers are often concerned that the manufacturing of its cheap products may not be ethical."
Stephens says Primark must also focus on "improvements to its existing UK store estate, through greater roll-out of its experiential features beyond just flagship locations, and the refurbishments of older stores, to boost footfall."
With many consumers now shunning the fast fashion industry, Stephens says the retailer must incorporate eco-friendly fabrics across more of its core ranges.
"Primark is trying to convince shoppers of its sustainable credentials with the opening of its pop-up in Boxpark Shoreditch last week, to launch its new wellness collection. The range features products composed of recycled and sustainable materials, which will also be made available at selected stores globally.
"However, as it comprises just 75 products, Primark must incorporate eco-friendly fabrics across more of its core ranges to make a real impact among shoppers. Furthermore, Primark should echo the pop-up's premium aesthetic when the collection is introduced into permanent locations, in order to drive interest."
Nigel Frith, a senior market analyst at www.asktraders.com, adds: "A short-term supply shock shouldn't have any serious impact. However, should the coronavirus outbreak disrupt supply chains over a longer period then the impact could be grave. This message isn't dissimilar to what we have heard from other firms. Yet the fact that the spread of the virus is showing few signs of slowing and is actually increasing outside of China is certainly cause for concern."
Click here for additional insight on the coronavirus outbreak: Is coronavirus a threat to the clothing industry?