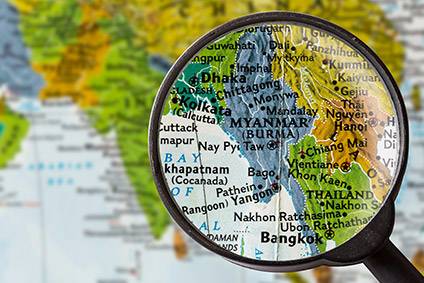 The coronavirus (Covid-19) outbreak is presenting a challenge for Myanmar's garment sector, an industry body for the country has said, as its garment factories tackle supply issues, logistical challenges, and the possibility of factory closures.
SMART Myanmar – a European Union funded initiative aimed at promoting 'Made in Myanmar' garments and sustainable practices – is calling on international buyers to be "adaptable, flexible and innovative" during what it says is a "difficult period" for the sector.
"It makes sense for buyers to discuss the disruptions and difficulties proactively with suppliers," says Jacob Clere, team leader of SMART Myanmar. "Buyers must consider strategies to cushion the blow for factories, such as relaxing lead times and several other measures."
The coronavirus epidemic has presented challenges for many countries dependent on fabrics and accessories from China, particularly Cambodia, Vietnam, Ethiopia and Myanmar.
Just last week, some of China's clothing and textile makers told just-style they are struggling to get back on track, saying quarantined workers, travel restrictions and material delays are disrupting production and causing ongoing uncertainty. They are also resigned to the fact business disruption is inevitable, with signs global supply chains are already facing delays and inventory shortages.
Reports this week suggest central and local governments are loosening the criteria for factories to resume operations, but that Wuhan – the epicentre of the outbreak – will stay locked down.
Clere says about 60% of textile facilities in China are thought to have resumed operations, but adds that some of that lost production "cannot be made up and will have to be absorbed by the market".
"It also creates logistics bottlenecks both before current stocks are extinguished and after new stocks are available," he explains.
The land border between Myanmar and China has been shut for the transport of goods. Myanmar gets most of its imports from China by sea, with about 5% thought to come via road.
"This is currently impossible, so those supply routes have to be adjusted," Clere says. "Similarly, Myanmar exported about US$150m of finished garments and footwear to China last year and was on-track to do more exports this year, but that is also severely disrupted by the land border closure."
To make up for diminishing access to fabrics and accessories from China, Clere says many factories in Myanmar are shifting to no overtime.
"In this way, they can smooth out the disruption over a longer period of time," he explains. "Myanmar's New Year holiday, Thingyan, happens in mid-April and garment production is normally stopped for a week as workers return to their hometowns, and also production is at its lowest on the shoulders of the holiday (before and after).
"Hence, in terms of timing, this supply chain disruption can be somewhat handled if existing supplies can last until Thingyan. As a second course of action, some factories might have to temporarily close, and it would be easier on them and the workers if this closure is adjacent to the Thingyan holidays. But, this is a drastic course of action and companies will only close if they face no other options."
Clere says the month of March will be "an especially critical and challenging period" for the country's garment and textile sector.
Covid-19 has not been detected in Myanmar. The country's Ministry of Health and Sports has fully tested 40 individuals suspected of possibly having coronavirus and all lab results have been negative. Recently, the country obtained 450 test kits and is starting to test more extensively. Various quarantine and thermal scanning procedures are already in place in airports and at border checkpoints, as well as major business and shopping centres, Clere says.
As of today, there have been 80,238 confirmed cases of coronavirus across 34 countries, and 2,700 deaths. The majority of those have been in China where 77,779 cases have so far been confirmed.