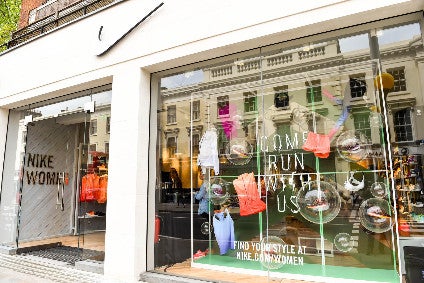 US sporting goods giant NIKE expects the novel coronavirus outbreak to have a "material impact" on its operations in Greater China in the short term as the company has shuttered half of its stores in the region.
"Similar to others in the marketplace, approximately half of Nike-owned stores have been temporarily closed, with corresponding dynamics across our partner stores," the Beaverton, Oregon-based business says.
Those stores that do remain open are doing so with reduced hours and are experiencing lower than planned retail traffic.
Nike's announcement comes as reports suggest the death toll from the outbreak has reached 490, with more than 24,000 people known to have been infected.
"In the short term, we expect the situation to have a material impact on our operations in Greater China," Nike says, adding its brand and business momentum with the Chinese consumer remains strong, as reflected in the continued strength of its digital commerce business.
"This situation was not contemplated at the time we provided third-quarter guidance during our second-quarter fiscal year 2020 earnings call. Dynamics continue to evolve and accordingly, we will provide an update on the operational and financial impacts on our third-quarter earnings call."
Newly-appointed CEO, John Donahoe, adds Nike's long-term opportunity in Greater China remains strong.
"First and foremost, our thoughts are with the people affected and we remain focused on the health and safety of our teammates and partners. Despite this difficult situation, Nike's long-term opportunity to continue to serve consumers in Greater China with inspiration and innovation remains exceedingly strong.
Donahoe, who took over the reins at Nike on 13 January, notes the company continues to have "extraordinary" brand and business momentum in all other geographies.
In December, the company booked a 32% jump in second-quarter profit to $1.1bn, after higher prices helped offset US trade tariffs. Revenues in the period rose 10.2% to $10.3bn, with sales in Greater China up 20% to $1.85bn.
Nike's announcement comes after Ralph Lauren says it is continuing to monitor the impact of closing half its store base in China amid the coronavirus outbreak and a similar move by Levi Strauss. The denim giant said last week it expects the epidemic to knock revenues in the first quarter of 2020.
German sportswear firm Adidas has also closed a "significant" number of its own stores in the country and says it is observing similar developments within its franchise business. As a result, the company says it is "currently experiencing a negative impact on our operations in China. However, at this point in time it is too early to assess the magnitude of this impact."
In addition, Hugo Boss has temporarily closed some stores with those still doing business having curtailed their opening hours.
Click here for additional insight: Is coronavirus a threat to the clothing industry?