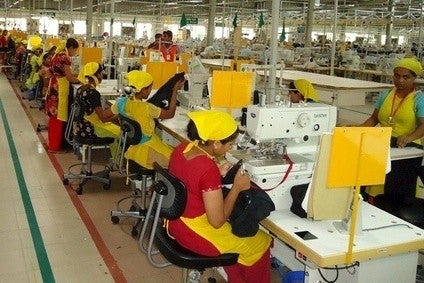 More than half of Bangladesh garment suppliers surveyed in a recent report had the majority of their orders cancelled during the coronavirus pandemic, while 35% of fashion companies showed no evidence of making regular payments to their suppliers.
The Covid Fashion Report, which replaces Baptist World Aid Australia's annual Ethical Fashion Report, surveyed 96 fashion companies representing 428 brands: 50 Australian companies, 11 from New Zealand, and 39 international.
The regular Ethical Fashion Report research process, which assesses the systems in place across a company's entire supply chain, could not be accurately carried out given the level of instability during the crucial early stages of the pandemic, which overlapped the research period of March to July 2020. The replacement report, therefore has not only been about assessing what companies have done, but also providing resources and engagement to drive further improvement and action.
According to the report, between March and May 2020, the world's 50m garment workers lost wages totalling US$5.79bn. While in March alone, more than half of surveyed suppliers in Bangladesh reported that the majority of their orders had been cancelled by buyers.
Further, 35% of companies gave no evidence they were making regular payments to suppliers throughout the pandemic.
The Covid Fashion Report, which gives brands a score from F to A+, is framed around six 'Covid Fashion Commitments' that ask companies to demonstrate the steps and measures they are taking to protect and support the most vulnerable workers in their supply chains.
These are: support workers' wages by honouring supplier commitments, identify and support the workers at greatest risk, listen to the voices and experience of workers, ensure workers' rights and safety are respected, collaborate with others to protect vulnerable workers, build back better for workers and the world.
In this context, the survey found 72% of companies have evidence of some action in relation to one or more of the commitments, while 55% of responses had gaps in one or more commitment. 27 companies provided no evidence of actions taken related to the commitments.
"Complex global supply chains mean no company could fully assure that their actions extended to every worker at every tier of the supply chain," the report notes. "It is a reminder that ethical supply chain management is always about continuous improvement and the need to dig ever deeper into the supply chain and be responsive to new risks and vulnerabilities."
In the 2019 Ethical Fashion Report, the median company-grade was C+, showing companies were incrementally improving their practices. Around 38% improved their grade between 2018 and 2019.
In this year's report, 45% of all companies had evidence against all commitments. Brands that met all the commitments included adidas, H&M, ASOS, Inditex, Uniqlo, Patagonia, and Levi Strauss.
In Bangladesh alone, more than one million garment workers were reported to have been fired or furloughed by mid-March. Despite local legal entitlements, 72% of suppliers reported that they were unable to pay furloughed workers and 80% were unable to provide severance pay to dismissed workers.
Around 65% of companies surveyed were able to provide some evidence that they maintained payments to suppliers for garments that were completed or already in production through the pandemic.
"It is vital for fashion companies to pay for orders that are in-progress or completed, so that suppliers can maintain financial viability and cover expenses, including workers' wages," the report states. "Companies must establish order schedules in active partnership with their suppliers to identify problem areas and determine mutually beneficial solutions. In the face of this crisis, workers' rights, wellbeing, and dignity should not be put on hold for the sake of profit."
The report offers a number of steps and recommendations for consumers:
Decide: The first step is the decision to start making small changes to become more connected to the impact of the clothes you buy. Our efforts may not be perfect at first—and that's okay. It's the small steps that slowly take us forward.
Act: Choose brands and products that have responded well to the risks of Covid-19 and have a strong track record of investing in systems to mitigate the risks of child labour, forced labour, and labour exploitation.
Influence: Become part of the movement to see long-term change in the fashion industry.
Click here to access and download the full report.