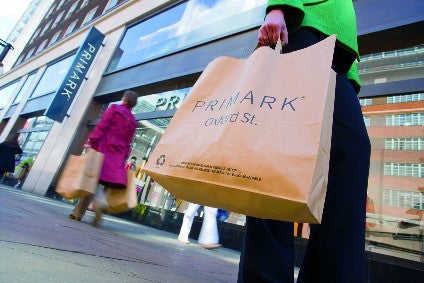 Primark has booked a 62% fall in annual profits on the back of lost sales from store closures related to the coronavirus pandemic.
The news comes after the Associated British Foods-owned business yesterday (2 November) said it is expecting a sales hit of GBP375m as the UK is forced into a second lockdown in a bid to curb the spread of the virus. The value fashion retailer is particularly hard hit as it does not operate a transactional website.
For the year to 12 September, earnings fell to GBP362m (US$470m) from GBP969m a year earlier, and also reflected a GBP22m provision created at year-end for inventory stored on its behalf by suppliers for longer than usual. Primark's revenues dropped 24% to GBP5.89bn.
The full-year decline in revenue was mainly seen in the third quarter, driven by the total loss of sales for the period in which stores were closed as a result of government restrictions to contain the spread of Covid-19.
Sales in the first half of the year were 4% ahead of last year at constant currency driven by the increase in retail selling space and supported by a substantial improvement in like-for-like sales in continental Europe, with a key driver being a notable improvement in Germany. All stores reopened by mid-July and since reopening the retailer has reported strong trade with a "low level of markdown."
Primark estimates sales were around GBP2bn lower as a result of Covid-19.
By region, the UK saw 12% lower sales on a like-for-like basis, while sales in Europe were 17% lower like-for-like. Sales in the US were 10% lower compared against the same period last year.
Primark was widely criticised at the start of the pandemic for cancelling all orders with its suppliers when its stores closed. In July it promised to pay in full for all outstanding finished goods and to utilise or pay for any finished fabric liabilities incurred before it closed all its stores in mid-March.
In its update today it said it has also established a wages fund to ensure workers were paid as soon as possible for goods in production for Primark in the most vulnerable countries and GBP23m has been paid out. Orders worth GBP1.25bn have also been placed with its suppliers for the autumn/winter season.
ABF, which also owns grocery, sugar, ingredients and agriculture brands, overall reported a fall in profit before tax of 34% to GBP914m. Group revenue fell 12% to GBP13.9m as a result of the total loss of sales for the period in which Primark's stores were closed.
George Weston, CEO of Associated British Foods, said: "Following a three-month closure, Primark delivered a robust performance, receiving an overwhelmingly positive response when it safely welcomed customers back to its stores. Uncertainty about temporary store closures in the short-term remains, but sales since reopening to the year-end of GBP2bn demonstrate the relevance and appeal of our value-for-money offering.
"We have the people and the cash resources to meet the challenges ahead and we are investing for the future."
What the analysts say
Darren Shirley, ShoreCapital: "In an especially challenging year for Primark given the temporary closure of store's through lockdown, is was fully expected that both sales and EBIT would be materially lower; The actual FY2020 divisional delivery is inline with our revised expectations, with an EBIT decline of 60% revealed to GBP362m.
"With c57% of Primark space expected to be temporarily closed by the end of this week, management has reiterated is guidance that it anticipates GBP375m of lost sales given the visibility currently available. On a brighter note, Primark is still intending to expand with c700k sq. ft., of new space set for FY2021, including three stores in the US, where the fascia is break-even.
"We remain highly positive on ABF for the medium term, with a high-quality stable of global and local grocery brands, a global sugar business that is well-positioned to deliver improved profitability over the medium term and a Primark business that remains both highly potent and immature across most of its European markets and the USA."
Pippa Stephens, GlobalData: "While Primark was one of the worst-hit fashion retailers during the peak of Covid-19, with its lack of a transactional website causing revenue to drop by GBP1.9bn to GBP5.9bn in FY2019/20, Primark has exhibited impressive resilience since stores resumed trading. The retailer's value proposition and wide appeal product range led to pent up demand while its estate was closed, with long queues being experienced outside many of its locations upon reopening.
"Primark's retail channels have experienced ongoing disparity since stores reopened, with city-centre locations dragging down its top line sales across all regions due to a decline in tourism and commuters. Since social distancing measures are likely to be in effect across the majority of its regions for the foreseeable future, consumers are likely to remain cautious about visiting these busy areas for some time, leading to a long-term decline in footfall. Its retail park stores have been much more resilient, with trading reportedly higher than last year, so Primark should put greater investment into these locations once they can reopen through longer opening hours and store refurbishments to help attract shoppers.
"As a second wave of lockdowns starts to spread across Europe, Primark is now being forced to temporarily close 57% of its estate once again, driving it to lose an estimated GBP375m worth of sales as a result. However, having bounced back impressively following the initial lockdown at the beginning of the year, Primark should feel optimistic that sales will rebound quickly in time for Christmas, given that current measures are not extended past the beginning of December.
"While the retailer sensibly delayed its autumn/winter purchases this year due to the pandemic, the inability to trade through the majority of it stores over the next month may lead it to have a surplus of stock left over at the end of the year. Primark should strive to refrain from discounting this stock as much as possible, as this would have a huge impact on its profit margins, and instead hold a proportion of its winter products until 2021, when the trading environment will hopefully be less volatile and consumers' appetite for fashion will have largely recovered."