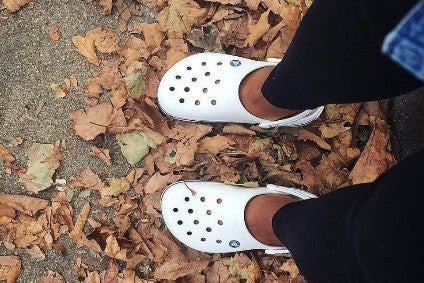 In a statement yesterday (10 January), Colorado-based Crocs, Inc said full-year 2021 revenues are forecast to grow by about 67%, up from recent guidance of 62-65% revenue growth.
Fourth-quarter revenue at Crocs Inc is expected to be 42% higher than the prior-year period.
"2021 proved to be an exceptional year for the Crocs brand, highlighted by expected 67% revenue growth amidst a challenging global supply chain environment," said CEO Andrew Rees. "We remain incredibly confident in the Crocs brand and continue to expect to achieve $5bn in revenues by 2026, even before any HeyDude revenues. Building upon that strong foundation, upon closing, we are excited to add HeyDude as another high growth, highly profitable brand."
Crocs announced plans to acquire footwear brand HeyDude for US$2.5bn on 23 December. The transaction is expected to close in the first quarter of 2022, subject to customary closing conditions and regulatory approval, and will see HeyDude operate as a standalone division.
Meanwhile, regarding 2022, Crocs reaffirmed that it expects revenue growth for its namesake brand, excluding HeyDude, to exceed 20% compared to 2021.
Gross margin is anticipated to include an incremental US$75m of air freight compared to 2021, while non-GAAP operating margin for the Crocs brand, excluding HeyDude, is expected to be about 25% including the impact of air freight.
HeyDude is expected to be immediately accretive to revenue growth, non-GAAP operating margins, and earnings per share.