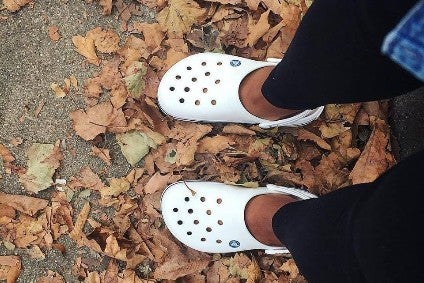 US footwear firm Crocs says the potential impact of any new US tariffs on footwear imports from China will see it cut the amount of US product sourced from China by more than two-thirds over the next year.
Outlining the steps it is taking to protect its business from the impact of the ongoing trade spat between the two countries, Crocs says it is dropping China production from 30% currently to more than 10% for 2020.
However, the Niwot, Colorado based firm stressed it does not anticipate the proposed tariffs to have a material adverse impact on its business given it has a globally diversified sourcing base.
Assuming a 25% tariff takes effect on 1 August, Crocs said it estimated the 2019 impact at approximately $5m.
In its most recent set of results, Crocs reported a 4.5% increase in revenues to $295.9m for the first quarter of 2019. Net income grew to $24.7m from $12.5m year-on-year.
"Our current sourcing mix reflects our need to balance ramping up incremental supply to meet the growing demand for our product and continuing our multi-year effort to reduce our sourcing from China," the group said yesterday, 11 June.
"Based on what we know today, we expect the amount of US product sourced from China will be below 10% for 2020. We are evaluating various mitigation initiatives which will be implemented to lessen the impact on Crocs of any tariffs ultimately put into effect."
Last month, the US President Trump threatened to impose an additional 25% duty on $300bn worth of Chinese goods – which would include apparel and footwear equipment, footwear inputs, and finished footwear.
The move prompted outrage from the US footwear industry. Five groups representing brands, retailers and importers wrote to Trump opposing the move, adding it posed a serious threat to the domestic footwear industry, would increase costs for consumers, and ultimately have unintended consequences that could imperil the economic models that both the domestic and import footwear manufacturing industries have been building.
Earlier this week, clothing company G-III Apparel Group, whose business is heavily exposed to China, also said it was taking several steps to offset the impact of the trade spat, including reducing its production in China and raising prices.