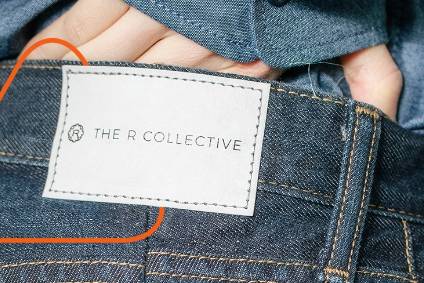 Hong Kong based manufacturing giant Crystal International Group has collaborated on a fully traceable upcycled denim collection with The R Collective.
The Denim Reimagined range aims to reduce the waste and climate impact of garments. Designed by Jesse Lee and remade by Crystal International's eco denim factory, it puts surplus denim back into use.
This limited-edition line features nine upcycled denim pieces that were remade from Levi's aged inventory and irregular or leftover samples that were unsewn and unstitched.
Crystal's China-based eco-denim factory, Zhongshan Yida Apparel, restitched and resewed the items into new denim pieces, while maintaining the authenticity of the denim products.
Digital identity technology powered by Evrythng was also used in scannable and water-soluble garment labels provided by Avery Dennison, to ensure every piece in the collection is fully traceable.
The "Denim Reimagined series unites innovative design, manufacturing and labelling to demonstrate a use for denim excess and reduce fashion's environmental impact," explains Miles Lam, assistant general manager of the product development department at Crystal International's eco denim factory.
According to The R Collective and based upon Levi's lifecycle assessment of a pair of jeans, each pair of jeans, along its entire lifecycle from crop to disposal, generates 33.4kg CO2-e.
By finding a second life for the aged inventory and irregular or leftover samples, this project is helping to avoid the need to create raw materials and reducing fashion's negative environmental impact.
The R Collective upcycled womenswear brand uses rescued excess fabrics sourced from world-leading brands, mills and manufacturers, in collaboration with award-winning sustainable designers who are alumni of The Redress Design Award, the world's largest sustainable fashion design competition.
Crystal International employs around 80,000 workers across five countries, with a presence in Vietnam, China, Cambodia, Bangladesh and Sri Lanka. It produced 470 million pieces of apparel in 2018 including lifestyle wear, denim, intimate, sweater and sportswear and outdoor apparel.
Earlier this year it became the first global manufacturer to team up with the Better Work initiative to help the programme scale up across the garment industry.
The company has also developed a Second Life closed loop denim line made from cutting room scraps that are recycled into high quality cotton fibre and new fabric. The denim is certified with Recycled Claim Standard (RCS), and can be categorised by material stream to provide full traceability for brands.