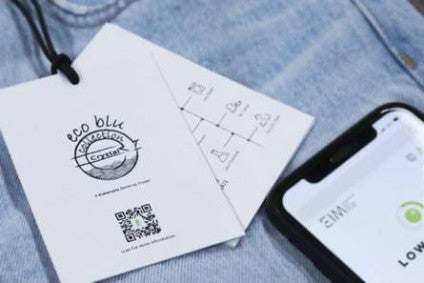 The denim division of Hong Kong based manufacturing giant Crystal International Group has launched a digital showroom to share the sustainability efforts that have gone into the production of its 4Zero jeans.
The portal can be reached by scanning the QR code on the hangtag of every pair of jeans, and details steps taken throughout the product development, fabric selection and manufacturing processes.
All customers can track information about the fabric, sewing lines and washing units, Environmental Impact Measuring (EIM) score, and savings in water and chemical consumption. They can also receive seasonal collection inspiration, market news and product updates.
"With digital innovation, we are more connected than ever. The digital launch of the new 4Zero collection is setting an exceptional example to embody our transparency through product design, material selection and manufacturing processes", says Miles Lam, assistant general manager of product development at Crystal Denim.
Sustainability starts with 3D digital design
During the design stage, Crystal Denim creates 3D digital product designs with its own digital library and curates virtual samples. Fabrics are also determined at the design stage. The 4Zero collection, which is sewn and washed at the Zhongshan Yida Apparel eco denim factory in China, uses 100% Better Cotton Initiative (BCI) cotton, Global Organic Textile Standard (GOTS) organic cotton, recycled materials such as Recycled Claim Standard (RCS) recycled cotton and Repreve recycled materials. With chain of custody standards, certified materials are traceable along the supply chain.
The 4Zero collection also adopts four "Zero" measures in the washing process – including zero manual work, zero potassium permanganate, zero hypochlorite and zero stone. This reduces environmental impact while the use of lasers achieves a faded look.
These eco production processes can reduce water usage by up to 90% and chemicals by up to 70% when compared with current conventional eco wash methods, the company says.
All jeans in the collection scored "low impact" (the best impact category) using the EIM tool, which calculates the environmental impact of water consumption, energy consumption, chemical consumption and impact on workers' health.
The launch of the digital showroom comes as Crystal has been scaling up its use of 3D virtual sampling. It expects to use the technology in 80% of the products that it develops by next year.
With around 20 production facilities spanning five countries – Vietnam, China, Cambodia, Bangladesh and Sri Lanka – the group makes lifestyle wear, denim, intimate, sweaters, and sportswear and outdoor apparel.
Earlier this year it became the first global manufacturer to team up with the Better Work initiative to help the programme scale up across the garment industry.
According to Crystal Denim's latest Sustainability Report, it is eyeing a 10% cut in carbon footprint per garment and an 8% reduction in freshwater consumption per garment by 2022.