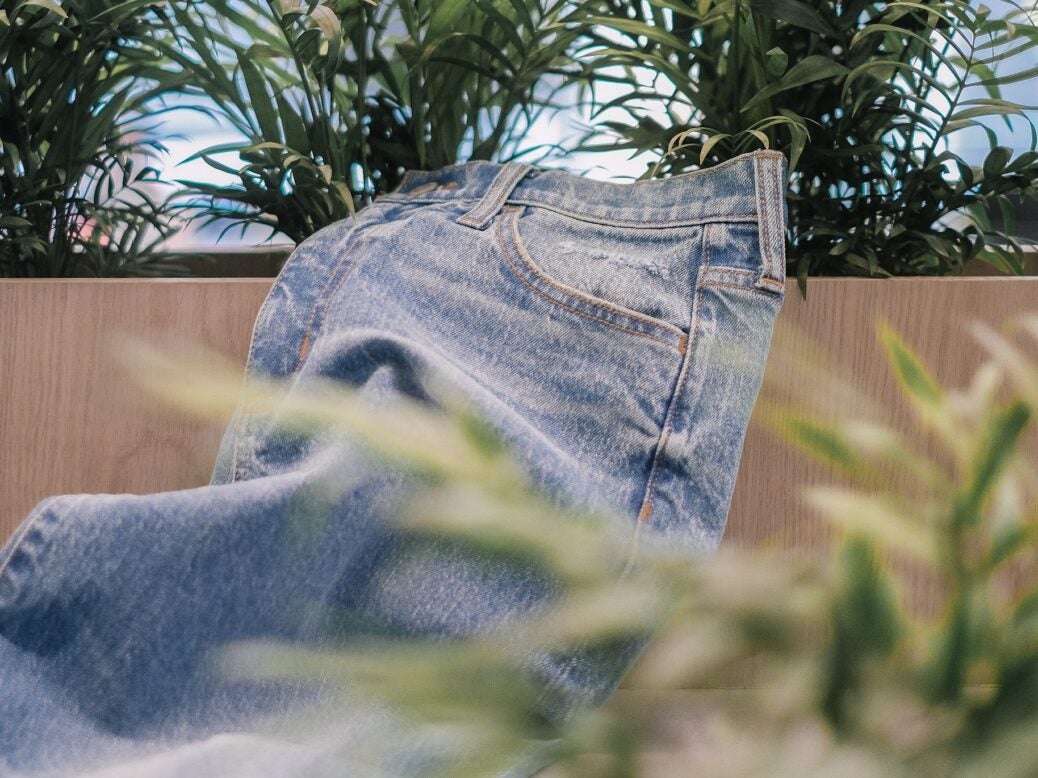 The new line is part of Crystal's commitment to the Ellen MacArthur Foundation's The Jeans Redesign project which aims to help fashion brands and manufacturers transform the way they produce jeans by tackling waste, pollution and the use of harmful practices.
The initiative, which launched in July 2019, includes guidelines that tackle the issues of waste and pollution associated with denim production, and have an ultimate aim of ensuring jeans last longer, can easily be recycled, and are made in a way that is better for the environment and the health of garment workers.
In accordance with these Guidelines, the fabrics in Crystal's Jeans Redesign Collection are sourced from organic and responsible methods, in which the organic materials are certified with the Global Organic Textile Standard (GOTS).
Using advanced laser technology and Wet G2 (oxidation) with alternative environmentally friendly chemicals, the eco production process can save as much water as possible when compared with the conventional eco wash method and can reduce chemical footprints during overall bleaching process, Crystal says. The chemicals used comply with Zero Discharge of Hazardous Chemicals (ZDHC) Manufacturing Restricted Substance List (MRSL), while traditional finishing processes, such as conventional electroplating, potassium permanganate (PP), stone finishing, and sandblasting are prohibited to reduce environmental impacts and protect workers' health.
Garments in the line are said to withstand a minimum of 30 home laundries while retaining the test standard of durability. In addition, with the components designed to be disassembled for reuse and recycling and correct labelling, it enables easy identification of jeans to facilitate effective collection, sorting, and recycling processes.
"We have been working continuously with the manufacturing partners and customers to rethink the denim design and production to create fully circular products, while demonstrating our ongoing commitment to eliminate wastes and reduce harmful chemicals and pollution," says Miles Lam, assistant general manager of product development at Crystal Denim. "In 2021, we worked with a customer to introduce more than 40 styles, over 230,000 pairs of Jeans Redesign jeans to protect the planet together".
The Ellen MacArthur Foundation recently published its 'The Jeans Redesign: Insights from the first two years' report which reveals the barriers, solutions and innovation gaps faced by the brands, retailers, garment manufacturers, fabric mills and laundries signed up to The Jeans Redesign's common guidelines and definitions.
Meanwhile, Crystal International published its 2020 Sustainability Report last month, outlining its sustainability vision, strategies, key initiatives, achievements, and performance during the year.