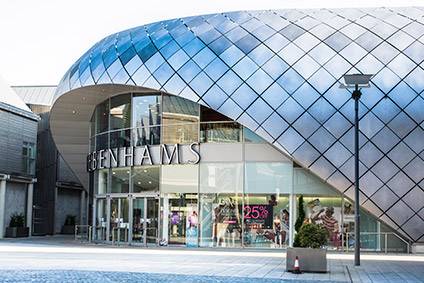 Department store group Debenhams has entered administration in the UK and says it is likely a liquidator will be appointed to the Irish operations.
In a statement this afternoon (9 April), the retail group notes it has appointed Geoff Rowley and Alastair Massey of FRP Advisory as administrators to protect its UK operations from the threat of legal action that could have the effect of pushing the business into liquidation while its 142 UK stores remain closed during the coronavirus lockdown. The move follows the notice of intent published earlier this week.
The administrators will adopt a "light touch" while the stores remain closed, working with the existing management team to get the business into a position to re-open and trade as many stores as possible again when restrictions are lifted.
The 242-year-old retailer, which has 22,000 employees, continues to trade online across the UK, Ireland and Denmark, and customer orders, gift cards and returns are being accepted and processed normally.
However, it expects the UK administrators will appoint a liquidator to the Irish operations.
"Regrettably, due to the challenges facing Debenhams Retail (Ireland) Ltd. (DRIL), the directors of DRIL anticipate that the UK administrators will appoint a liquidator to the Irish operations. Debenhams has already suspended trading in its 11 Republic of Ireland stores, the majority of which are now not expected to reopen."
It adds the affected colleagues have been placed on temporary lay-off under the Irish Government's payment support schemes for employers and said it will work to support them through the process. Customers in the Republic will continue to be able to shop with Debenhams online.
Debenhams CEO Stefaan Vansteenkiste says: "In these unprecedented circumstances the appointment of the administrators will protect our business, our employees, and other important stakeholders, so that we are in a position to resume trading from our stores when Government restrictions are lifted. We anticipate that our highly supportive owners and lenders will make additional funding available to fund the administration period.
"We are desperately sorry not to be able to keep the Irish business operating but are faced with no alternative option in the current environment. This decision has not been taken lightly and is no way a reflection on our Irish colleagues, whose professionalism and commitment to serving our customers has never been in question."
News of Debenhams' plans to file a notice of intent first emerged last week. The retail group first fell into administration in April last year. Shortly after, its new owner, Celine Jersey Topco Limited, launched a company voluntary arrangement (CVA).
Nigel Frith, a senior market analyst at asktraders, notes Debenhams was already on "very shaky ground" prior to the coronavirus outbreak, which has brought the retailer's problems to head a little earlier than expected.
"After 242 years on the high street, there is a good chance that many, if not all of the department store's doors won't be opening after the UK wide lockdown ends.
"The chain also said it would not be re-opening its business in Ireland after the worldwide lockdown ended, which also means there will be more bad news to follow.
"What we are seeing here is simple – if the firm was in a weak position going into the coronavirus lockdown, there is a good chance that it will not be coming out better the other side – and it's looking like it won't be. In recent years fast fashion and online businesses have thrived, whilst our more traditional brands have struggled to transform and adapt with the current economic climate.
"So far, they have now entered administration, but it does certainly look like the end for Debenhams. What once was a thriving high street store is now on the brink of collapsing, taking all 22,000 jobs with it".