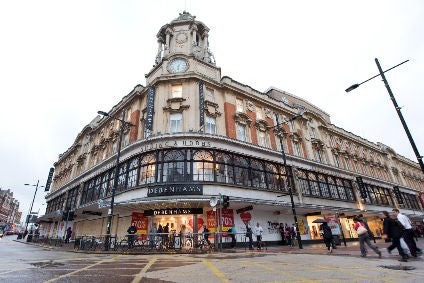 UK department store retailer Debenhams has announced it may axe up to one-quarter of its store manager roles as part of its turnaround strategy.
Revealed in April of last year, the 'Debenhams Redesigned' strategy is aimed at making the retailer more digitally-driven and more of a "destination" shop. It operates alongside Debenham's 'Fix the Basics' plan, which is already underway to switch around 2,000 staff to customer-facing roles, replenish stock faster, and de-clutter the store environment, amongst other things.
Now, the retailer says a review of its store structure as part of the strategy has identified "significant cost savings" by reducing the complexity of management roles in stores as well as processes to optimise and standardise ways of working.
As a result, Debenhams says "potentially 320 positions are at risk of redundancy" – about 25% of store management roles.
A Debenhams spokesperson told just-style the company is "currently consulting with individuals affected and will seek redeployment opportunities where possible".
The firm added it envisages its new structure being fully in place by the end of March.
Richard Lim, chief executive of Retail Economics notes that 2018 is looking like a year of distress for the UK retail industry.
"The major challenge facing bricks-and-mortar retailers is the continued pincer movement of rising operating and sourcing costs against a backdrop of shifting shopper behaviour," he adds. "Many retail business models are incompatible with the relentless shift towards online spending and the emergence of the experience economy. Put simply, department stores are incredibly expensive to operate while they are also burdened with inflexible leases, high rents and too many properties."