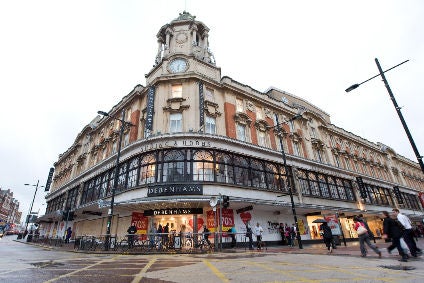 Celine UK Newco 1 Limited, the owner of department store group Debenhams, has appointed administrators to prepare for its own potential bankruptcy filing.
In a notice last week, Celine Group Holdings said it had appointed Philip James Watkins and Philip Lewis Armstrong of FRP Advisory Trading Limited as administrators in respect of the company and its immediate parent company, Celine UK Newco 1 Limited.
"The appointment of administrators is a consequence of the entry into administration of the primary operating company of the Debenhams' group on 9 April 2020," it said in a statement.
The move is not expected to impact Debenhams' trading. The retailer has been in administration since April after the Covid-19 pandemic weighed further on its finances. Earlier this month, the group announced plans to cut 2,500 jobs across its store network and distribution centre as part of its latest cost-cutting drive. To date, it has reportedly cut around 6,500 jobs and closed 20 stores.
The retail group, which originally had 142 UK stores and employed around 22,000 staff, said its administrators had initiated a process to assess ways for the business to exit its protective administration. This, it said, could include the current owners retaining the business, potential new joint venture arrangements, or a sale to a third party.
Investment bank Lazard is understood to be running a sale process for Debenhams, according to The Sunday Times, but sources say it is unlikely to yield offers to run the retail group as a going concern.
Its biggest lender, Silver Point, could either buy the chain out of administration in a restructured form, or liquidate it, should no bids materialise, the publication says.