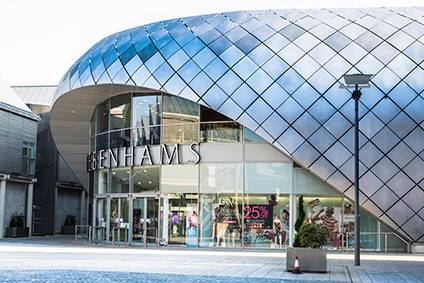 UK department store retailer Debenhams is reported to be on the brink of administration for the second time to protect the company against claims from creditors during the Covid-19 pandemic.
The company could file a notice of intention to appoint administrators as early as next week, with accountancy firm KPMG thought to be among those on standby to handle the process, according to a report published today (3 April) by Sky News.
However, Sky adds that a "firm decision" to appoint administrators has not been taken and an alternative outcome could still be an option.
A Debenhams spokesperson told just-style: "Like all retailers, Debenhams is making contingency plans reflecting the extraordinary current circumstances. Our owners and lenders remain highly supportive and whatever actions we may take will be with a view to protecting the business during the current situation. While our stores remain closed in line with government guidance, and the majority of our store-facing colleagues have been furloughed, our website continues to trade."
The retail group, which employs around 22,000 staff, fell into administration in April last year. Shortly after, its new owner, Celine Jersey Topco Limited, launched a company voluntary arrangement (CVA).
Debenhams wrote to landlords last month with two asks: a five-month rent holiday because of coronavirus; and longer-term rent reductions to support balance sheet restructuring.
Sofie Willmott, lead analyst at GlobalData, says administration will only prolong the inevitable.
"Placing Debenhams into administration for the second time within 12 months will tide it over for now, freeing it from debts but ultimately its owners are merely stringing out its demise and its long-term future remains bleak. With significant further investment in the business now very unlikely, it is difficult to see what will attract shoppers back once its stores can reopen.
"The department store chain was in already trouble before the Covid-19 pandemic hit, and the sharp shift in consumer shopping habits will only speed up inevitable changes in the UK market. Weaker retailers without a unique selling point will be weeded out, with many unable to survive the year."
Nigel Frith, a senior market analyst at asktraders, agrees Debenhams was already on "very shaky ground" prior to the coronavirus outbreak which has brought the retailer's problems to head a little earlier than expected.
"After 242 years on the high street, there is a good chance that many, if not all of the department store's doors won't be opening after the UK wide lockdown ends.
"What we are seeing here is simple – if the firm was in a weak position going into the coronavirus lockdown, there is a good chance that it won't come out the other side. In recent years fast fashion and online businesses have thrived, whilst our more traditional brands have struggled to transform.
"So far, we aren't quite at the administration stage, but it is definitely an option on the table to protect Debenhams from legal claims from creditors that it owes money to during the coronavirus outbreak. Next week will be judgement week for Debenhams."