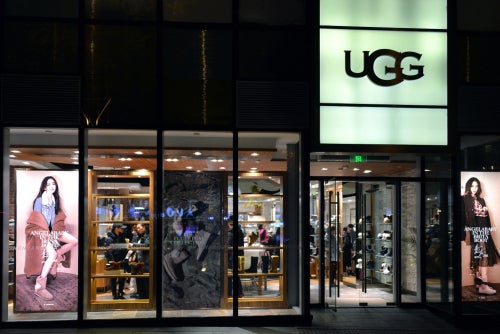 For the three months to the end of December, Deckers Brands said net sales increased 10.2% from $1.08bn for the same period last year. On a constant currency basis, net sales increased 9.7%.
Ugg brand net sales for the third quarter increased 7.9% to $945.9m, compared to $876.8m for the same period last year, while those at Hoka One One grew 30.3% to $184.6m. Teva brand revenues increased 31.4% to $20.6m from $15.7m, while those at the Sanuk brand decreased 13.4% to $6.1m from $7m a year prior.
Domestic net sales increased by 3.3% to $796.1m, while international net sales were up 27.5% to $391.6m, Deckers Brands said.
Wholesale net sales increased 7.3% to $598.4m. Direct-to-Consumer (DTC) net sales were up 13.4% to $589.4m from $519.9m for the same period last year. Comparable DTC net sales increased 10.7%.
Net income, meanwhile, amounted to $232.9m, compared to $255.5m last time. Gross margin was 52.3% compared to 57% for the same period last year.
"Our portfolio of brands delivered Deckers' largest quarter in history, with balanced growth among our direct-to-consumer and wholesale channels and across multiple geographies," said CEO Dave Powers. "We believe Hoka and Ugg are two of the strongest brands in the footwear industry, which are complimented by our strong operating model and fortified balance sheet. While we have continued to experience unprecedented demand for our brands, we are still navigating a challenging supply chain and pandemic environment. Even with these headwinds, I have great confidence in our organisation and its ability to deliver another impressive year while positioning the company for long-term success."
Looking ahead, for full-year fiscal 2022, Deckers Brands expects net sales to be in the range of $3.03bn-$3.06bn, and gross margin to be at or slightly below 51.5%.
This is up from previous guidance of net sales in a range of $3.01bn-$3.06bn for the year ending 31 March.