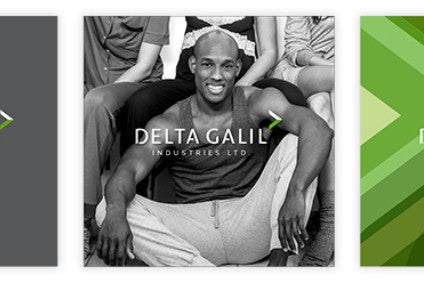 Delta Galil has reported record annual and fourth-quarter results amid the news it expects the coronavirus outbreak to negatively impact its first half of 2020 and annual EBIT by between US$5m-7m.
The Israel-based manufacturer and marketer of branded and private label apparel saw net income jump 44% to US$35.6m in the three months ended 31 December. Excluding one-time items, earnings increased 28% to $34.8m.
Operating profit was up by 36% to $52.2m in the quarter, from $38.4m in the year-ago period. Sales, meanwhile, amounted to a record $504.8m, an 11% increase from $454.3m in the same quarter of 2018.
Meanwhile, for the 2019 full year, net income rose 20% to $57.7m from $48.2m in 2018. Excluding one-time items, earnings totalled $60.2m, compared to $60.5m last time, representing a 0.4% decrease.
Operating profit increased by 29% to $103.7m, while annual sales were up by 13% to $1.69bn.
"Our results were primarily driven by the strength of our Global Upper Market, Delta Israel and European brands, coupled with our diverse blend of product categories and business segments. We continued to invest in our online sales growth engine, which presented double-digit e-commerce growth," said Isaac Dabah, CEO of Delta Galil.
"During the year, we focused on consolidating the recently acquired intimate apparel leader Bogart Group into our business, and its performance exceeded our expectations. Additionally, the acquired men's underwear leader Eminence continues to be a contributor to Delta European Brands – along with our overall growth – and we have begun cross-selling Eminence and Schiesser."
Looking ahead, Dabah added the company remains focused on strengthening its product assortment with Bogart's lingerie capabilities.
"We intend to introduce Bogart products to Delta customers, while leveraging Bogart's relationships to introduce Delta products to their major customers. We also plan to grow the Eminence ladies and kids products, while using the European Brands infrastructure for selling Delta products."
2020 outlook & coronavirus
In providing its initial 2020 financial guidance Delta Galil said it estimates the negative impact of the coronavirus on its first half of 2020 and annual EBIT to range between $5-$7m.
Full-year 2020 sales are expected to be between $1.74-$1.77bn, representing an increase of 3-5% from 2019 actual sales, while full-year EBIT is forecast between $107m-$113m, representing an increase of 1-7% from 2019.
Net income is forecast to range between $57m-$62m, compared to 2019 actual net income of $60.2m.
EBITDA is estimated at between $197m-$203m for 2020, representing an increase of 1%-4% from 2019, while diluted EPS is forecast at between $2.23-$2.42, from 2019 actual EPS of $2.26.