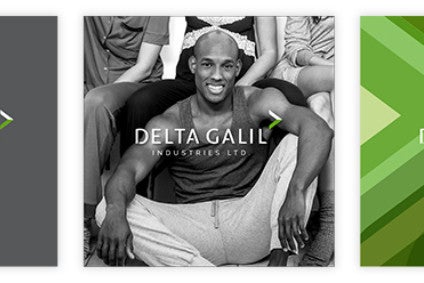 Israel-based lingerie, underwear and activewear manufacturer Delta Galil Industries has hailed its performance in 2017 as sales soared to a record high, despite a revenue slip in the fourth quarter.
In the three months ended 31 December, net income increased 8% to US$20.1m, compared to $18.5m in the same quarter last year. Operating profit totalled $32.5m in the period, compared to $32.3m in the year-ago quarter, a 1% increase.
Sales meanwhile, slipped 1% to $371.6m in the fourth quarter, compared to $376.3m last year.
For the full year, net income fell 6% to $49m from $51.9m for the 2016 full year, while operating profit was $84.6m, compared to $85.3m for the 2016 full year, representing a 1% decrease.
Sales jumped 16% in the period to a record $1.37bn from $1.18bn last year. The year-over-year increase reflected the annualisation of Delta Galil Premium Brands (DGPB), which was acquired on August 2016, as well as the continued strength of Delta's global upper market and Schiesser business segments, along with improvements in Delta Israel.
"We are extremely pleased with our 2017 annual results, which were highlighted by record sales, EBITDA, net income and EPS excluding one-time items," said CEO Isaac Dabah. "We continue to focus on driving both organic growth and accretive acquisitions, and seek new opportunities to apply our competitive and financial strengths to deliver shareholder value."
Dabah added the company has "several strategic initiatives and category expansions" in place for 2018 that are intended to maximise growth opportunities within the DGPB segment.
For the year ahead, Delta expects sales in the range of $1.4bn to $1.44bn, representing an increase of 2%-5% from 2017 actual sales of $1.37bn. Full-year 2018 net income is expected to range between $54m and $59m, representing an increase of 7%-16% from 2017 actual net income of $50.7m, and diluted EPS is expected in the range of $2.11-$2.30, representing an increase of 7%-16%.
"As always, we remain committed to investing in new products and resources to drive sustained profitable growth and long-term shareholder value and, with a strong balance sheet, we have the necessary financial resources to continue to innovate and grow – both through organic means and strategic acquisitions," Dabah said.