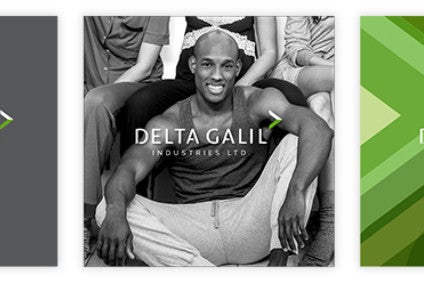 Israeli apparel major Delta Galil Industries has hailed record full-year sales for 2018, boosted by double-digit increases in both earnings and revenue in the fourth quarter.
For the three months to 31 December, net income increased 23% to US$24.7m, compared to $20.1m in the same quarter of 2017. Net income excluding one-time items surged 36% to $27.2m, up from $20.1m a year ago.
The company, which makes branded and private label apparel products for men, women and children, as well as leisurewear, activewear and denim, reported sales of $454.3m for the period, a 22% rise from $371.6m in the same quarter of 2017.
For the full year, however, earnings slipped 2% to $48.2m, down from $49m last time. Net income excluding one-time items increased 19% to $60.5m, versus $50.7m the year before.
Sales for the 2018 full year, meanwhile, increased 10% to an "all-time high" of $1.5bn, reflecting strength in Delta Galil USA, Delta Galil Premium Brands, Delta European Brands (including Eminence starting the third quarter) and Delta Israel.
Isaac Dabah, CEO of Delta Galil, said 2018 represented a record year for Delta Galil. "During the year, we focused on consolidating the acquired Eminence Group and incorporating its brands Eminence, Athena and Liabel within the Delta Galil business. Additionally, going forward we are leveraging Eminence as a growth vehicle to expand our distribution of Delta Galil's core products."
The group acquired French premium undergarment maker Eminence Group in May 2017, with the deal completing earlier than expected in July last year.
Dabah added the group saw "continued strength and improvements" in Delta Galil Premium Brands during the year, with the segment delivering meaningful cost savings and efficiencies from operations.
"Overall, we will continue to grow both organically and through accretive acquisitions, while focusing on areas such as Asia and South America and our direct-to-consumer business. With a strong balance sheet in place, we remain committed to investing in new products and resources to drive sustained profitable growth and long-term shareholder value."
Delta Galil develops innovative seamless apparel including bras, shapewear and socks; intimate apparel for women; extensive lines of underwear for men and branded men's underwear including the brands Schiesser, Eminence, Athena & Liabel; babywear, activewear, sleepwear such as the PJ Salvage brand, and leisurewear. Its brands include 7 For All Mankind, Splendid and Ella Moss.