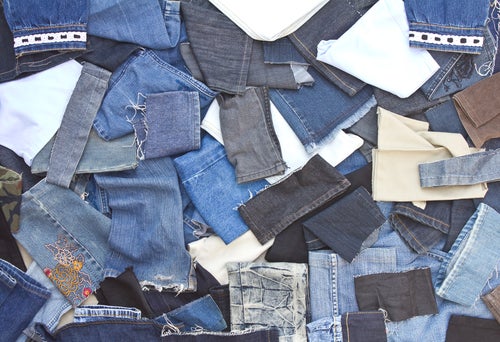 A new collaboration from DenimX sees its upcycled laces from recycled jeans being incorporated into safety footwear for healthcare workers and other professionals who need shoes made from hardwearing materials.
The new DenimX laces were officially launched at the end of last year as part of the company's aim to promote a more circular future.
The protective trainers will incorporate the first batch of repurposed laces, which are available in blue or grey colourways.
DenimX, based in Maastricht, The Netherlands, worked with RD4 textile sorting centre (which employs people with learning difficulties) and packaging firms Eurocarbon and Paperwise for the project, as well as footwear manufacturer Emma.
DenimX launches upcycled laces from recycled jeans
The DenimX upcycling process allows waste to be remade into new products. The denim from the discarded jeans is broken down and mixed with recycled polyester to form a strong and hardwearing yarn that can be used for shoe laces.
The company also uses its process of turning waste textiles into functional products to create non-apparel and footwear products such as bracelets, iPad covers and wine coolers.
The DenimX production process can be used to create composites from other types of base fibres. Possible combinations include polyester, polyester-cotton mix, hemp, bamboo, flax and wool. Composition of the fibres can also be reinforced and optimised to be as stiff, strong, light or thin as required. Plus, the company explains that decorative prints and embossed logos can be applied and the binder that holds the textile fibres together can be varied to give each composition its own look and feel.
Just Style reported in September 2021 that consumers' increasing awareness of sustainability and building a circular economy means that both fast-fashion and luxury apparel companies will increase the amount of clothing on offer that is made from recycled materials.