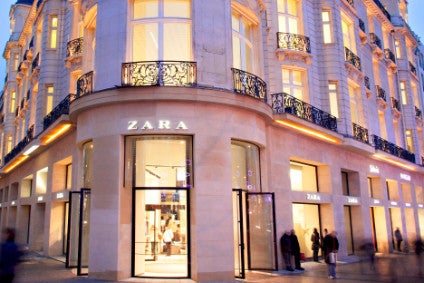 The company swung to a Q1 net profit of EUR421m (US$513.1m), compared with a loss of EUR409m a year earlier. 
Sales rose 50% to EUR4.9bn. Online sales in local currencies grew by 67%.
Gross margin expanded to 59.9%, helped by the retailer's move towards a fully integrated, digital and sustainable model.
Almost a quarter of trading hours were lost in the period due to temporary store closures, meaning that although the group's sales rose EUR1.6bn on the year to EUR4.9bn, this was still a 16.6% decline on 2019 (EUR5.9bn).
Despite its strong online proposition, with sales leaping by a further 67% following 50% growth in the comparative period, Inditex was unable to offset physical losses as consumers in lockdown had little motivation to buy new trend-led apparel.
However, as almost all stores have now reopened, and social restrictions gradually relax, Q2 results are set to show a very different story, with sales soaring 102% on the year and 5% up on 2019 in the first few weeks between 1 May and 6 June.
This demonstrates the true potential of Inditex's brands – particularly trophy brand Zara, which is in a prime position to benefit from the reopening of retail. Thanks to its stores being bright, spacious and modern with inspiring visual merchandising, Zara will be towards the top of fashion shoppers' lists to revisit, with the opening of fitting rooms also a huge footfall driver as the brand is known for its inconsistent sizing which is difficult to tackle online.
Zara's affordable yet unique and fashionable ranges will be highly desirable to many shoppers in Q2 as they step away from their loungewear and look forward to dressing up for social events this summer.
Following the popularity of Zara's fragrance range, it is no surprise that the launch of Zara Beauty on 12 May has been well received, with the brand effectively marketing the new range which smartly expands its product offer after a year where reliance on apparel has been detrimental.
Though many shoppers switched to buying makeup online during the pandemic, the issue of colour matching and no returns means that most will always prefer purchasing these products in person, so Zara should roll out at least a limited range to all of its stores, as it is currently only available in selected locations.