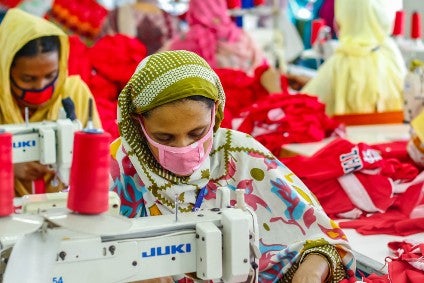 A new digital map that charts Dhaka's garment factories, helping buyers know more about the suppliers they are involved with, will strengthen and facilitate the growth of Bangladesh's readymade garment industry, experts say.
The online interactive public database – Mapped in Bangladesh – is a research initiative led by Brac University (Brac U) with lead funding from C&A Foundation.
Currently available in its beta format, it contains export-oriented ready-made garment factory names, GPS location, postal address, number of workers, products, export countries, brands and buyers, and memberships, affiliations, and certifications, all of which enumerators collected going door-to-door starting last year.
The map is scheduled to be expanded by 2021 to incorporate factories across the country.
Bangladesh commerce minister Tipu Sultan called it a "very timely and significant initiative" which will help product buyers know more about the entities.
Government, city planners, and civil society organisations can utilise the map's industry dispersion and concentration data while the industry can use the tool to showcase its capability and enable greater efficiency.
Bangladesh is the world's second-largest ready-made garment exporter, worth around US$28bn per year, thanks to its low labour costs, abundant labour, and duty-free access to western markets. The sector's reputation took a hit following the Rana Plaza factory building collapse in April 2013, but a major effort to inspect factories for structural, fire and electrical safety has been underway over the last five years through two buyer-backed remedial plans; the Bangladesh Accord on Fire and Building Safety and the Alliance for Bangladesh Worker Safety.
In addition to its core customers like the EU (which takes around 60% of Bangladesh's garment exports) and the US, the country is seeing growing demand for its clothes from markets like Australia, Russia, China, Brazil, and South Korea.
Siddiqur Rahman, president of the Bangladesh Garment Manufacturers and Exporters Association (BGMEA), said the transparency initiative serves as a starting point toward re-branding Bangladesh's apparel industry.
"We have made tremendous progress in safety and sustainability of the industry in recent years. We believe the digital map will empower stakeholders across the industry, including factories, brands and retailers, and government through establishing a better understanding about the industry and will help the users with correct and real-time information.
"This will strengthen the effectiveness of improvements already underway."
Linda Patentas, programme manager for cities, supply chains, and migration at the US campus of Brac University, added: "Mapped in Bangladesh enables a collective action approach to advancements in the garment sector by bringing together key industry stakeholders. Transparency tools like Mapped in Bangladesh can continue to strengthen improvements and facilitate growth in the readymade garment industry."