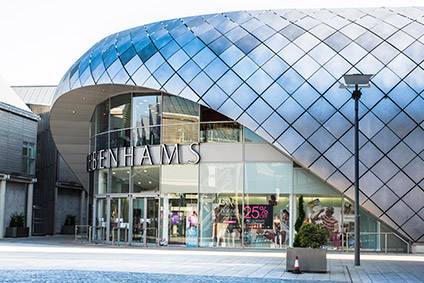 Heavy discounting across the peak Christmas period failed to offset what one analyst called a "dismal" set of results for Debenhams this morning (10 January), as shares in the struggling UK department store retailer tumbled on a sales fall of more than 3%.
Shares in the British department store group were down by more than 11% this afternoon (10 January) on the back of its Christmas trading update.
For the 6 weeks to 5 January, the retailer posted a 3.8% decline in group gross transaction value, and a 3.4% drop in group like-for-like sales. In this period, the UK declined by 3.6%, with weak store footfall offset by 6% growth in digital, delivering two-year growth of more than 20%. This was supported by improved mobile conversion and customer experience.
For the 18 weeks to 5 January, group gross transaction value declined 5.6%, with like-for-like sales down 5.7%. The UK was down 6.2% with international down 3.5%. Digital sales have grown by 4.6% across the period.
Meanwhile, Debenhams said revitalised product has driven improved market share in womenswear, but noted the UK trading environment has continued to be volatile, with customers seeking out promotions – which will result in some gross margin erosion in the first half.
"We have worked hard to deliver the best possible outcome in very uncertain times for retailers," said CEO Sergio Bucher. "We responded to a significant increase in promotional activity in the market, particularly in key seasonal categories, in order to remain competitive for our customers.
"In order to ensure that Debenhams has a sustainable and profitable future we need a strong customer proposition, a strengthened balance sheet and a reshaped store portfolio. We have a robust plan to deliver this, and while there is much work still to do, the performance of our Redesigned stores over peak, and continued outperformance in digital, reinforce our view that we are taking the right steps to protect the future of the business."
Looking ahead, the retailer said it is currently on track to deliver current year profits in line with market expectations, supported by further identified cost savings.
Sofie Willmott, senior retail analyst at GlobalData, said Debenhams "dismal" results come in stark contrast to its price-matching competitor John Lewis, which delivered growth in a challenging market.
Nevertheless, she noted Debenhams' Christmas performance showed some improvement on disastrous September-November trading, driven by its online channel. Yet, unlike midmarket competitor Next Plc, decent online sales are not enough to prop up Debenhams' overall figures as underperforming stores account for the bulk of turnover.