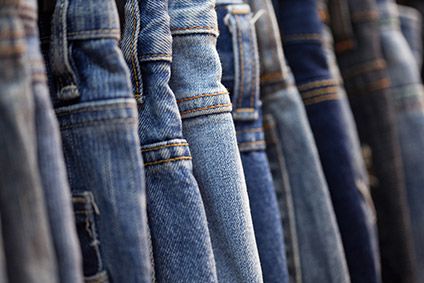 A study into authenticating denim from the farm through to the finished product has found DNA molecular tagging is a reliable tool to help brands and manufacturers tackle traceability and transparency throughout the entire supply chain.
The study was conducted by the Fashion Institute of Technology (FIT) in New York, and product authentication business Applied DNA Sciences, and published in the AATCC Review of the American Association of Textile Chemists and Colors.
At the FIT labs in New York, denim swatches were treated with DNA molecular tags produced by Applied DNA, then subjected to stone and bleach washings. The samples were then analysed at Applied DNA's laboratories in Stony Brook, where it was proven that the DNA tags remained intact and suitable for high quality forensic scale analysis.
Based on the observed stability, DNA tags of this kind may soon be ready for testing at a full manufacturing facility to verify the authenticity of the finished denim garment, the company says. DNA tags can be applied during the cotton ginning phase, enabling the fibre to be tracked and authenticated throughout the entire supply chain.
"This technology will enable brands and manufacturers to track fibres from the farm through to the finished product, allowing for a more transparent supply chain. Traceability can also help verify certain sustainability claims about commodities and products, helping ensure good practices and respect for people and the environment in supply chains," says Sean Cormier, FIT assistant professor, textile development and manufacturing.
Authentication is a significant problem in denim since most American cotton used to produce denim is shipped overseas and combined with another cotton where it can lose its identity.
James A Hayward, president and CEO of Applied DNA Sciences, adds: "Denim jeans are typically exposed to a stone and bleach wash, which is the harshest type of treatment made to any apparel product. If we could identify our DNA markers after this type of wash, we believe any cotton product could be identified at any stage in the supply chain.
"These results suggest that it is now possible to assign several unique DNA molecular tags to any cotton product, regardless of finish. Future projects will tag cotton intended for denim use, as well as other premium fibres such as wool, cashmere, as well as man-made fibres like viscose, nylon, recycled polyester and also bio-based fibres and recycled materials."