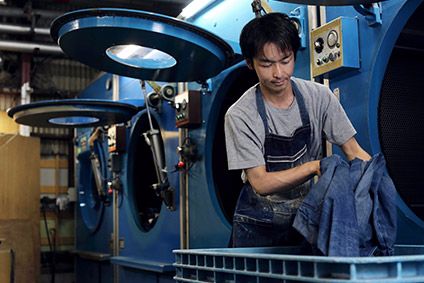 A group of 30 brands and industry organisations has joined forces with the City of Amsterdam and the Dutch Ministry of Infrastructure and Water Management to sign a 'Denim Deal' aimed at making the denim textile chain more sustainable.
The three-year pact includes agreements for more reuse of old consumer textiles in new denim garments. Brands such as Scotch & Soda, Kuyichi and Mud Jeans say they will jointly make 3 million denim garments containing at least 20% recycled textiles.
They have also pledged to incorporate at least 5% recycled textile into all denim garments as soon as possible. The Denim Deal is expected to be used as a blueprint for making garments based other materials more sustainable.
Municipalities are also expected to play a role. The City of Amsterdam, for example, collects old textiles, while in the municipality of Zaanstad, Wieland Textiles is working on the automatic scanning and sorting of used garments according to composition, colour and fabric structure.
It is understood to be the first time companies across the denim supply chain have joined forces to achieve cleaner denim garments, including production companies, brands and shops, as well as collectors, sorters, cutters and weavers.
"I think we should work towards a cleaner textile industry for a healthy future and our climate," says State Secretary Stientje Van Veldhoven. "When we change our demand here, it will have an effect on how sustainably companies in Turkey and China, for example, produce. What is so special about this Denim Deal is that, for the first time worldwide, all parties involved in the (denim) textile cycle are taking up the challenge for a cleaner wardrobe together."
Marieke van Doorninck, alderman for sustainability, Municipality of Amsterdam, adds: "Amsterdam wants to be completely circular by 2050. This means that we have to be economical with precious raw materials and reuse more materials. As the Amsterdam Metropolitan Area, we are already a frontrunner in sorting and making discarded textiles recyclable. We now also want to take a pioneering role in the field of denim, so that we can turn the Amsterdam region into a "hub" for circular textiles and circular denim."