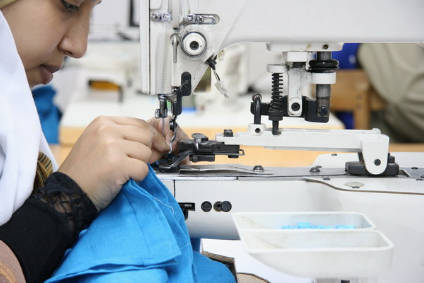 Garment factories in Egypt have indicated that order cancellations linked to the global Covid-19 crisis are reaching millions of dollars, and that many manufacturers have been forced to reduce their production capacity as a result.
The feedback follows a survey of 20+ factories ranging from SMEs with less than 50 workers to large enterprises with over 2,000 employees in late April.
The survey was carried out by Better Work, which launched a full country programme in Egypt in early March as part of a larger ILO programme to support labour relations in Egypt. In addition to Better Work, two other programme components will be implemented focusing on the application of the new trade union law and general strengthening of social dialogue in the country.
The Covid-19 crisis has resulted in school and university closures in Egypt as well as general recommendations for work from home for job categories that are able to do so. However, as of late April, factories in the garment sector were continuing to operate.
Survey results indicate that about two-thirds of manufacturers have reduced their production capacity due to order cancellations. None of the surveyed factories has had to close operations completely, although some of the smaller companies fear having to shut down their businesses within weeks if the situation persists.
Financial losses due to the cancellations of orders are reaching millions of US dollars. About one-third of factories surveyed still hope to recover within three months, while the majority expects a longer recovery time of up to 12 months or more.
These losses impact the factories' ability to pay workers adequately, including those who have been laid off due to reductions in production. The private sector has reached out to the government to request support, such as loans with low interest rates or tax exemptions for a limited period of time.
Factories report having sufficient access to personal protective equipment and sanitising products, but there is no verification of the extent to which realities in workplaces provide protection of workers according to international standards.
Better Work says demand for its services exceeds present capacity, and that factory registrations are underway and expected to be finalised in early May for the first cohort of firms enrolling in the programme. It also plans to recruit and train a complete staff team over the course of 2020 to establish a full suite of operations.
Limitations on the movement of staff due to Covid-19 mean that factory level services will initially be delivered remotely via technology in a similar fashion as other Better Work programmes.
Better Work is a joint programme of the International Labour Organization (ILO) and the International Finance Corporation, a member of the World Bank Group, and is currently active in 1,700 factories, with a reach to 2.4m workers.
Through its work in Bangladesh, Cambodia, Ethiopia, Haiti, Indonesia, Jordan, Nicaragua and Vietnam, the programme has helped improve working conditions including increasing take-home pay, reducing workplace harassment and a narrowing the gender pay gap, while also helping to drive increased profitability.