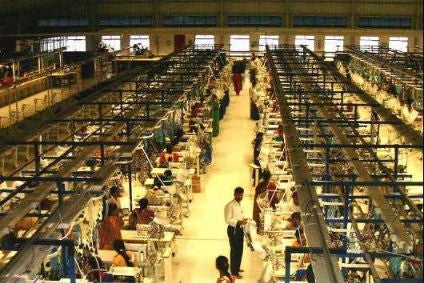 India's government has withdrawn the Merchandise Export from India Scheme (MEIS) benefit, a decision that an industry trade body has warned is a "serious situation" likely to erode profit margins of textile exporters.
The government has removed the benefit of 4% MEIS on exports of made-ups and garments with retrospective effect from 7 March.
Ultimately, this means the MEIS benefit, which would already have been factored into prices to buyers, would have to be paid back to the government from the exporter's own profits.
The MEIS scheme launched in 2015 and provided a duty benefit of 2% of FOB value on exports to Group A countries (traditional markets like the US, EU-28 and Canada) and a single country in Group B (emerging markets). A 2% duty benefit is also provided for fabric exports to Bangladesh and Sri Lanka.
The objective was to offset infrastructural inefficiencies and the associated costs of exporting products produced in India, giving special emphasis on those which are of India's export interest and have the capability to generate employment and enhance India's competitiveness in the world market.
At the time of its launch, the Cotton Textiles Exports Promotion Council (Texprocil) said the scheme could lift exports of cotton fabric by 10-15%.
But the body is now warning pulling the benefit poses a "serious situation."
"Withdrawal of 4% MEIS with retrospective effect has caused an extremely serious situation for the exporters of Made-ups and has indeed come as a shock," says Dr KV Srinivasan, chairman of Texprocil.
He added exporters were already having a tough time financially as the Rebate of State and Central Taxes and Levies (RoSCTL) scheme for the textile and garment sector, announced early last year, is still not operational. In addition, MEIS of 4% was suspended for garments and made-ups as of August 2019.
"Exporters of made-ups are facing serious working capital problems, affecting their day-to-day business. Exporters have factored the availability of 4% MEIS along with the RoSCTL scheme which is to the tune of 8.2% while quoting export prices to foreign buyers for shipments to be effected over a period of eight to nine months. With the removal of 4% MEIS, exports at these prices will now become uneconomical and exporters will have to bear huge losses on such shipments. Many of the exporters have also paid advance tax on these export receivables as required under the Income-tax Act which has further aggravated the problem.
"Withdrawal of export benefits with retrospective effect puts a huge question mark on the stability of the policy which is much needed to attract investments and for the development of trade and industry besides creating confidence among the exporters. Any changes or modification of existing policy and benefits should be with prospective effect. All the exporters small, medium and large have been badly affected by this decision especially the MSME sector where bulk of the made-ups meant for exports are being manufactured.
"Exporters are working against tough competition from countries like Bangladesh, Sri Lanka, Vietnam and Pakistan combined by high import duties in leading export markets like the US, EU, China on Indian products and in such a scenario the removal of 4% MEIS has demotivated the exporters especially the merchant exporters."
Srinivasan urged the government to restore the benefit of 4% MEIS on exports of made-ups and garments.