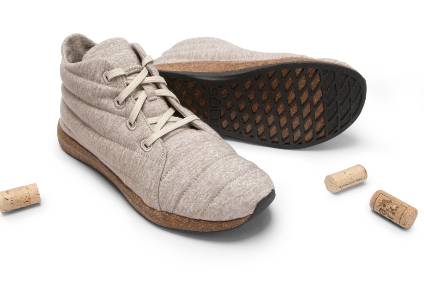 Canadian footwear manufacturer Sole has announced a collaboration with apparel company United By Blue on the production of a shoe made using only sustainable materials which it promises will not compromise on quality, comfort or durability.
The SOLE x UBB Jasper Wool Eco Chukka uses Sole's Recork recycled cork midsole and UBB's Bisonshield insulation.
The duo says both components are natural, sustainable and perform better than the synthetic alternatives on the market.
The Recork midsole is made from recycled wine corks, ground down and recombined in Sole's formula to give flex, cushioning and durability superior to the industry-standard EVA or poly-foam midsole.
Meanwhile, UBB's Bisonshield insulation utilises bison hair that would otherwise be destined for landfills to create a sustainable insulation that regulates temperature. The natural hollow-fibre insulator is lightweight, flexible and retains heat even when wet.
Other features include Bloom Algae Foam footbeds. Bloom foam requires 35% less energy to produce than regular EVA and has 40% less impact on ecosystems and climate, the companies say. In addition, the footbed is treated with Polygiene anti-odour technology, contributing to a longer lifespan for the shoe.
"This is a shoe that people can feel really good about buying, and will love wearing," says Sole CEO Mike Baker. "This is also just the beginning for us. We're immensely proud of what we've produced but we believe we can always improve and will keep working toward the goal of a more sustainable future for the footwear industry."
Brian Linton, United By Blue founder and CEO, adds: "Working with Sole to incorporate Bisonshield insulation into a footwear collection for the first time is reflective of our belief that sustainability is not a status quo. It also shows how working together with industry-leading peers, we are able to push the boundaries of sustainability further, more quickly."
The shoes will retail for $150, initially launching at Kickstarter, before hitting other retailers later this year.