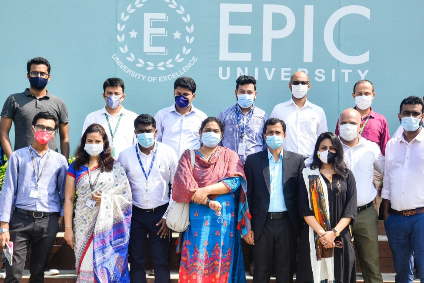 Garment manufacturing giant Epic Group is launching a dedicated training scheme for women workers at its factories in Bangladesh in conjunction with international development organisation BRAC.
The aim is to train and mentor more than 500 employees so that they can progress through the many leadership roles at Epic, the single largest producer of woven bottoms and shirts in Bangladesh.
"Focusing on the growth of female leadership in the manufacturing industry offers a profound opportunity to foster cognitive diversity and gender equity in the workplace globally, thereby uplifting the quality of life for women, their families, and the communities where they live," the company explains.
The 'Women's Empowerment through Education' collaboration with BRAC Bangladesh will also build on Epic Group's leading position in ethical manufacturing, social sustainability, and value creation for customers.
Headquartered in Hong Kong, Epic operates manufacturing facilities in 11 locations across South and Southeast Asia, the Middle East, and Africa; and oversees the quality and welfare of 25,000 workers who produce nearly 90m garments a year.
"The welfare, equal treatment, and empowerment of women have always been at the core of Epic's values," explains founder, CEO and chairman, Ranjan Mahtani.
"We believe that partnering with BRAC will further develop our commitment to women; therefore, creating female leaders around the world and making us a supplier of the future."
Former ready-made garment sector executive Jenefa Jabbar, director of Human Rights & Legal Aid Services and Social Compliance at BRAC, adds: "Since the inception of Bangladesh, BRAC continues to empower women and train them to adapt to new technologies to make them job-ready for future."
BRAC has an annual expenditure of more than US$1.1bn, with the majority self-financed from its enterprises in Bangladesh, and operates in 11 countries across Asia and Africa.
In further commitments to worker welfare, at the end of last year Epic Group teamed up with sustainability and supply chain services provider Elevate to build a world class social responsibility programme that goes beyond compliance to contribute a wider value to the communities where it operates.
It is also rolling out sustainable water treatment solutions at its global factories, beginning in Bangladesh, through a strategic partnership with Arvind Envisol, the water treatment business of Indian textile major Arvind Limited.
Ranjan Mahtani has also spoken at length with just-style about why the global Covid-19 pandemic should be the catalyst for apparel brands, retailers and their suppliers to take stock, re-evaluate current practices – and redefine their roles for the future: Has the apparel sourcing bubble burst?