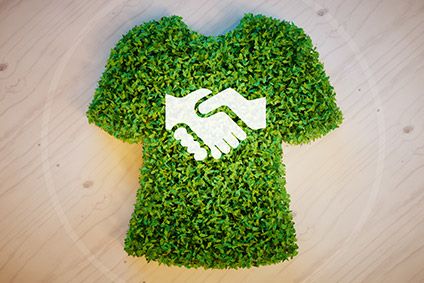 An equal partnership between a brand and its suppliers is the only way to successfully accelerate sustainability, one industry executive has said, with collaborative action key.
Speaking at the recent CFS+, the new digital concept of the physical Copenhagen Fashion Summit, Delman Lee, president and chief technology officer of TAL Apparel, said the Covid-19 pandemic has hit his business hard, leading to a number of important learnings; namely the problem of over-production and the need to have more lean production practices in place.
"At the beginning [of the pandemic] a lot of brands and retailers asked for delivery to be on time. But very soon after that they said actually we don't need a delivery as Covid is hitting the rest of the world. So we saw a sort of petulant swing in attitude towards the supply chain from 'please deliver as quickly as you can', to 'please stop delivery, please stop production', and forecasts got reduced."
Yet Lee suggests much has to change in the relationship between buyers and manufacturers in order to accelerate sustainability.
"In equal partnerships, there are many layers we need to explain. The first is when you work with different size of companies – whether you are working for big brands or small brands in the market – when it comes to sustainability issues, we want to have equal consideration. If you're discussing sustainability issues, it doesn't mean the opinion of a big brand means more than a small brand. So when you are considering how to solve sustainability issues, whether you're a big or small company you must have an equal voice.
"The second layer is an area I see people always get confused. The confusion comes because in the supply chain there are customers and there are suppliers. The whole sustainability change will not happen unless the whole system, the whole business, changes. And the systemic change doesn't happen by one big player asking a supplier to 'please just do whatever I say.' It actually comes from every partner valuing everyone working on different aspects of sustainability. So if a brand doesn't value the sustainability effort of a supplier, the supplier actually from a business partner view, might not want to work with the brand, and vice versa."
For this systemic change to happen, Lee says everyone has to value the sustainability effort of every supply chain partner. And in order for this relationship to accelerate sustainable, action is needed.
"Actions speak louder than words. And in the many years I've been working on sustainability through a few multi-stakeholder initiatives, we find that a lot of "leaders" want to lead the industry. But many times we find that they do it by themselves. And it goes back to a saying, 'if you want to go fast, go alone. But if you want to go far, go together'. I think we need to see a bit more of the latter. A more collective effort, more working together, achieving the same goal, would go a long way."
In order to create a continuous, prosperous business model but within the planetary boundaries, Lee says the industry needs to consider the overproduction of clothing.
"There are currently people, maybe overproducing, aiming for a low price on the garment, but in fact, there are a lot of inefficiencies in the supply chain. Currently, there is a lot of waste in the system that somewhere, someone in the supply chain is eating that up, taking that profit hit.
"But imagine a world where there is less garment over-production, where garments last longer, you may do quantity-wise less business, but profit-wise it's actually profitable."
Lee says a lot of P&L is based on tangible numbers, and that there a lot of externalities not priced into products.
"I keep telling people if you want to win in this game you need to start early to know that there is actually a scarcity of resources coming any time soon, so you should cater for it. Currently it is not priced into your product, but one day it will be. And once again, it's less products you make but you actually make more [profit] because material is going to cost more."