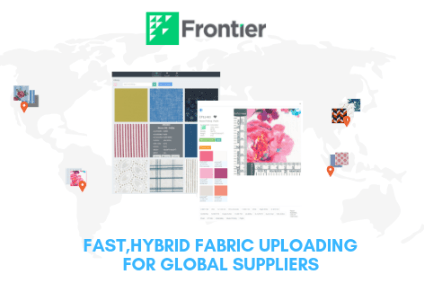 Taiwan-based fabric sourcing and production company Esmetex has launched an online platform it says can cut the creative development cycle by more than two weeks by collecting and organising information from the supply chain.
The new Frontier platform is a massive database of searchable online fabrics that the company claims digitises the fabric supply chain from creative fabric development to the inspection process, to 3D garment design.
It contains more than 18,000 fabrics from Esmetex's own mill and the 25 mills under its management – with 1000 items added each month. The company plans to work with national brands and retailers to add their fabrics from additional mill partners, creating an integrated solution where all customers' vendor fabric collections and libraries are available in one place digitally.
Fabric designers and developers at a brand or retailer can use the platform to image search, find similar items via AI or search by description, blend, colour, end use, Pantone colour number, pattern or weight. The resulting fabrics include all fabric details and available sample yardage, which can be ordered directly from the platform via a mobile device.
Esmetex also highlights the environmental aspect of the platform, and says that using fabrics that already exist, rather than manufacturing unnecessary yardage, reduces the use of harmful chemicals and dyestuffs, saving resources.
Brands and retailers can also manage fabric quality control through the platform, with the Frontier inspection app allowing QC to capture, record and share an inspection report in the field. This quality data is compiled into a scorecard and directly helps a brand to consolidate its factories. Additionally, the inspection report provides defect distribution to reduce consumption for garment factories.
"The digital textile industry is new and growing," explains Victor Chao, founder of Esmetex and Esmetex Frontier. "Previously only occupied by PLM software companies, now more players are emerging, such as 3D design tools, digital materials, 3D file convert technology, and quality compliance platforms; now it's easier to find an end-to-end solution.
"Software solution companies tend to stay away from factories, but Esmetex sees it as a unique opportunity. We offer the fastest way to move suppliers' items online, and intend to occupy this foundational industry position so other applications can be built on top – like the basic infrastructure of a city."