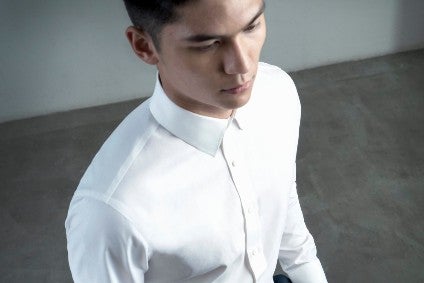 The Covid-19 pandemic has proved a mixed blessing for Hong Kong-based garment supplier Esquel. While export earnings have plummeted, the company has pivoted by adding non-medical use face masks to its product line, which it will sell under the company's own label Determinant.
Marketed as DET30, the three-layer, antibacterial masks can be washed up to 30 times and maintain its effectiveness, according to a company note.
Upon news of the Covid-19 pandemic's outbreak in January in Wuhan, China, the company started planning turning a major part of its garment-producing capacity to making masks.
Esquel had anticipated potential falls to its standard export market, dominated by quality shirts, and increased demand for masks, especially in Asia, where many governments have required people to cover their faces while practicing social distancing.
"At the initial stage when the virus was spreading in China and several other Asian countries, we didn't see much damage to our business because our major clients are from the US and the EU. However, things changed quickly as the virus rapidly spread to the world in recent months," says Edgar Tung, Esquel global operations managing director.
He notes that since February significant numbers of orders have been cancelled or drastically decreased, with some clients requiring longer payment terms. "All these have caused serious challenges to our business, and we had to make some difficult decisions," Tung says.
Last month, Esquel announced plans to halt production at four factories in China, Malaysia and Mauritius.
While this loss of export sales has been painful, the masks initiative has given Esquel an opportunity to focus on a long overdue goal – developing Determinant as its own brand.
The Hong Kong based shirt maker launched Determinant in 2016 to sell men's shirts targeting young businessmen in China. Tung says that as Esquel's focus has traditionally been on exports, it kept Determinant in play as a side business with good future potential.
"Esquel has been positioning itself as an OEM partner, so we didn't dedicate the time and resources required to develop the brand," he says.
However, maybe Covid-19 means Determinant's time has come through surging sales of DET30, which are sold in mainland China through Esquel's online stores at third-party e-commerce platforms, such as Tmall.
The company has also launched a Determinant online store focusing on export markets, which will sell men's shirts, as well as the masks, that will be shipped to customers worldwide, according to an Esquel note. "The mask business is helping build brand awareness quickly in many countries. This is a great time for us to develop the brand," Tung told just-style.
The company has also been selling the DET30 mask as a co-branded product with some clients. These co-branded masks are usually sold outside China, although Esquel would not reveal names.
Looking ahead, while making masks is likely to be a major business for Esquel for the time being, it will certainly not replace the company's core business – textiles and garments.
"The mask will be one of our products, but we believe it is our expertise in fabric materials and our skilled workers that will drive Esquel's growth again once the pandemic is over," Tung explains.