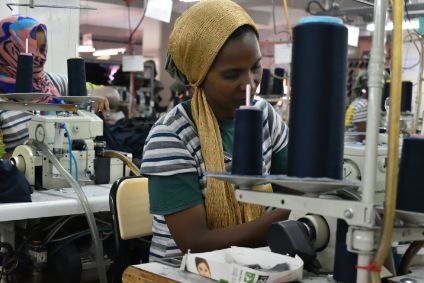 Two more industrial parks have been inaugurated in Ethiopia as the government continues its vision to transform the country into a world-leading apparel and textile hub.
The Jimma Industrial Park and Dire Dawa Industrial Park were officially opened last month by the Prime Minister Abiy Ahmed.
Jimma Industrial Park in western Ethiopia is being built by the Chinese construction giant China Communications Construction Company (CCCC), is expected to host investors in light manufacturing sectors, mainly agro-processing, textile and apparel products. Stretching across 75 hectares of land, the industrial park has nine manufacturing sheds.
Dire Dawa Industrial Park in eastern Ethiopia, approximately 262km from the port of Djibouti, is being built by China Civil Engineering Construction Corporation (CCECC) at a cost of US$51m. It is expected to attract investors in the textile and leather sectors, and building materials. Extending across 14,500 hectares of land, the park will have 15 industrial sheds once it is fully commissioned and will create employment opportunities for around 40,000 people.
According to the Ethiopian Investment Commission (EIC), there are 11 more industrial parks in the making. Ethiopia plans to build a total of 30 parks by 2025, creating 200,000 jobs.
Additionally, the second Adama Park that was inaugurated last year has begun its first exports. According to local press, Chinese textile company Antex Group has started exporting swimwear produced at the park to Europe.
Leslie Neme, CEO of Industrial Park Development Corp, cited in the article by New Business Ethiopia, says Antex expects to generate US$100,000 through its first export to Europe. Antex, which has rented eight sheds, has employed 1500 staff at the park. This is expected to grow to 10,000 once its unit is fully operational. The report also states Antex has increased its capital to US$50m from an original US$5m.