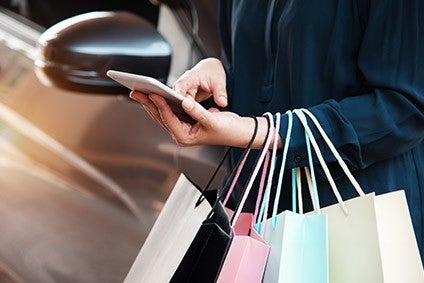 When the deal closes later this year, Depop will continue to be based in London, and operate as a standalone marketplace run by its existing leadership team.
New York-based Etsy's platform enables crafty creators and traders to sell their wares to the world.
In contrast, Depop is known for its vintage, streetwear, one-of-a-kind and Y2K (late 1990s/early 2000s) fashion. This focus means that around 90% of its active users are under the age of 26; and young consumers are adopting second-hand fashion faster than any other audience.
"Depop is a vibrant, two-sided marketplace with a passionate community, a highly-differentiated offering of unique items, and we believe significant potential to further scale," says Josh Silverman, Etsy CEO.
"We see significant opportunities for shared expertise and growth synergies across what will now be a tremendous 'house of brands' portfolio of individually distinct, and very special, e-commerce brands."
Founded in 2011, Depop's 2020 gross merchandise sales (GMS) and revenue were $650m and $70m, respectively, each increasing over 100% year-over-year. Its GMS grew at a compounded annual growth rate of nearly 80% from 2017-2020.
The second-hand market is projected to grow at a 39% CAGR from 2019-2024 in the United States, reaching $64bn, and to grow to twice the size of fast fashion on a global basis, according to analytics firm GlobalData.
"We're on an incredible journey building Depop into a place where the next generation comes to explore unique fashion and be part of a community that's changing the way we shop," says Depop's CEO Maria Raga.
"Our community is made up of people who are creating a new fashion system by establishing new trends and making new from old.
"We'll now take an exciting leap forward as part of the Etsy family, benefiting from Josh's and his team's expertise, and the resources of a much larger company whose values are so aligned with ours here at Depop."
Following the expected close of the transaction during the third quarter of 2021, Etsy Inc will operate three highly differentiated brands: Etsy, Reverb and Depop.
Significant growth
Over the past ten years, the resale market has become a much more significant part of the retail landscape, says Neil Saunders, managing director of GlobalData.
"Over the next ten it will become larger still, fuelled by an interest in sustainability, a desire for uniqueness, and the rise of the participatory consumer who wants to trade as well as buy.
"The latter is of particular interest to Etsy, which has built its business as a marketplace where creators and traders can sell their wares to the world. Resale, especially of vintage items, is already a part of Etsy's offer. However, Etsy is not always the first port of call for shoppers interested in fashion resale – especially outside of the United States.
"The acquisition of Depop which has put down very deep roots in the resale market, especially among younger consumers in the UK and US, partly extends Etsy's geographical reach and boosts its customer base. It also gives it a platform with a fashion resale focus through which it can tap into the surging secondhand clothing market.
"From the point of view of Depop, Etsy – with its technological and marketing skill – should help aid expansion into new markets and amplify the brand in existing ones. From Etsy's perspective, the acquisition will give the company a new avenue for growth as it comes down from its pandemic-related high.
"Partly because of the growth, the resale market has become more crowded and competitive over recent years. A polarisation is now emerging between companies focused on mainstream resale, luxury resale, and vintage and creative resale.
"Depop falls into the latter group and is nicely differentiated. Etsy will need to take care to ensure it retains its distinctiveness as this is, in large part, what makes it so appealing to Gen Z shoppers."