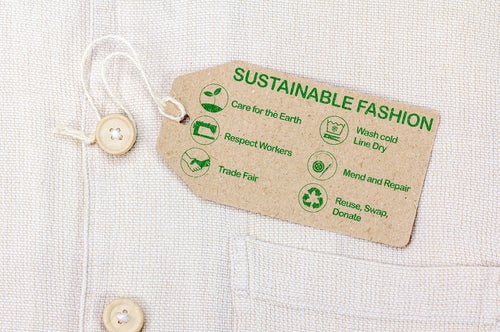 The SAC said the draft proposals from the EU Commission fall short of its stated ambition to address greenwashing "at a time when only swift and drastic action can avert irrevocable damage to the world".
"The Directive does not mandate a standardised and clearly defined framework based on scientific foundations and fails to provide the legal certainty for companies and clarity to consumers," says Andrew Martin, executive vice president of the Sustainable Apparel Coalition.
"This lack of focus has the potential to open the door to a range of varied and incomparable methodologies, risking undermining, rather than advancing, progress in the sector.
Under the proposal, which targets greenwashing businesses, any green claims made need to be independently verified and proven with scientific evidence, while new public environmental labelling schemes will be banned unless developed at EU level.
The European Commission says consumers will have more clarity and stronger reassurance that when something is sold as green, it actually is green, and better quality information to choose environment-friendly products and services.
It said businesses would also benefit as those that make a genuine effort to improve the environmental sustainability of their products will be more easily recognised and rewarded by consumers and able to boost their sales – rather than face unfair competition. This way, the proposal will help establish a level playing field when it comes to information about the environmental performance of products.
Martin says: "After a decade in development, the EU commissioned and funded Product Environmental Footprint (PEF) is the most holistic, scientifically-grounded method to date for assessing the environmental impact of a product.
"We, therefore, urge EU policymakers to reconsider its inclusion within the Directive. As science evolves, so too will the PEF – constantly evolving, growing and strengthening to provide a more comprehensive picture of sustainability."
The European Commission could not be reached for comment for its thoughts on the SAC's views at time of press.