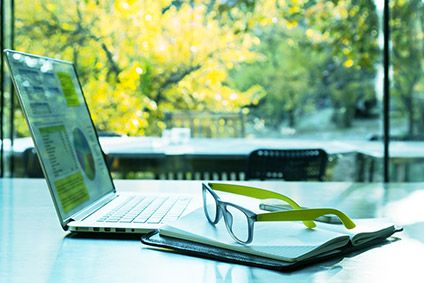 European companies, including apparel firms, have been slammed for not disclosing enough about climate change and other sustainability issues such as human rights, in a new report published by the Alliance for Corporate Transparency.
Backed by public interest law firm Frank Bold, the study of 1,000 companies analyses the information the firms disclose on their environmental and societal risks and impacts following the requirements introduced by the EU Non-Financial Reporting Directive. The study concludes that "the poor quality and comparability" of these disclosures is hindering efforts to scale up sustainable finance as investors do not have reliable information to inform their decisions.
"This leaves major financial risks stemming from sustainability challenges, especially climate change, unaccounted for in investor and corporate strategies, as well as important social and environmental impacts unaddressed," a statement accompanying the report explains.
The EU Non-Financial Reporting Directive, introduced in 2018, requires large listed companies, banks and insurers in the EU to report information necessary to understand their policies, risks and impacts on sustainability matters. But the law has failed to provide the specificity required to ensure useful and relevant disclosures are made by companies, the Alliance says.
Key findings
Here are some of the cross-industry key findings from the report:
Reports focus on presenting general policies and commitments (80-90% for key issues such as climate, human rights, and anti-corruption), but not concrete targets, outcomes of policies with respect to these targets, and specific information on risks and impacts (20% on average).
13.9% of companies report on alignment of their climate targets with the Paris agreement goals. This number is higher in the energy and resource extraction sector (23.5%), but still more than three-quarters of the most impactful companies do not report on their targets and plans in this context.
25.5% of companies disclose specific human rights risks facing them (out of 56.6% that acknowledge the existence of such risks), yet only 14.6% report on the actual impacts, and merely 3.6% explain the outcomes of the management of the risks.
13.6% of companies in the apparel and textiles sector (the definition includes footwear companies) do disclose their ultimate suppliers in high-risk countries for human rights, which is a major improvement.
A vast majority (88.1%) of companies report on anti-corruption policies, but only 33.7% describe how these are implemented.
Textile and apparel sector
For the textile and apparel sector specifically, 110 companies were investigated, including adidas, ASOS, Benetton, French Connection and Zalando, across the UK and Ireland, Benelux, Eastern and Southern Europe, France, Germany and Austria, and Nordic.
The industry gained mixed results in the study. Below are some of the key findings:
Over three-in-four of companies do not provide information about supply chain transparency in their reports, with less than 1% publicly listing their suppliers, even in high-risk sectors. The notable exception is the apparel sector in which 36% of assessed companies provide at least a general description of the location of their supply chains, and an additional almost 14% disclose the list of the actual suppliers.
In the case of Scope 3 emissions, where an average of 35% of all companies disclose such type of data, in high-impact sectors such as apparel and textiles, 62.7% do not provide information.
On the reporting of policies and disclosing outcomes, such as the use of natural resources, the apparel and textile industry reports having a policy in place (71.8%), but only around 20% report on outcomes in relation to meeting policy targets.
Compared to general results, companies from sectors facing heightened human rights risks in their supply chains tend to provide more specific information. 38.2% of apparel and textile companies disclosed specific risk descriptions, with around 33% providing data on audited suppliers.
Cross-sectorally, only 24.5% disclose steps taken to monitor supply chain conditions besides auditing. The highest result is reached in the apparel and textile industry, at 11.8%, which suggests the practice is viewed as an increasingly essential element of human rights due diligence.
Similarly, 13.6% of companies in the sector disclose supplier lists; key information that can allow external review of the effectiveness of a company's supply chain due diligence. This again indicates an emerging practice in the sector.
A way forward
"The results of the research show that existing EU legislation is not meeting its objectives and it seems that the only way to address the problem is to specify what companies should be reporting," says Filip Gregor, head of responsible companies at Frank Bold. "We need to be careful not to provide criteria that are too detailed or to over-regulate companies, but there is a clear space and need for very targeted sector-specific clarifications on mandatory requirements for reporting."
The European Commission is expected to present a renewed sustainable finance strategy later this year that will build on its previous Sustainable Finance Action Plan to reorientate capital flows and mitigate financial risks facing the European economy stemming from climate change.
Click here to access the full report.