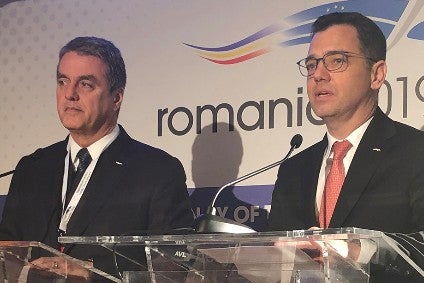 The World Trade Organization (WTO) has welcomed the EU's engagement in conversations aimed at strengthening the body and called for their continued leadership to help address some of the key challenges in global trade, including current trade tensions and the impasse in the WTO's dispute settlement system.
Addressing a meeting of European Union trade ministers in Bucharest, Romania, last week, WTO director general Roberto Azevêdo said strengthening the trading architecture is a "critical element" in improving prospects for global trade.
"WTO members are exploring possible reforms to the trading system that would help efforts to that end. This is very positive. We have struck a series of major new trade deals over the last few years, but we must do more to make the WTO faster and responsive to members' needs. I welcome the key role that the EU is playing here to help us meet these challenges and find positive ways forward."
Azevêdo's comments come two months after a joint declaration was been signed by all G20 nations that supports the "necessary reform" of the WTO and recognises the current multilateral trading system is "falling short" of its objectives.
The move followed a call by a group of WTO members in October which stated urgent reform is required at the intergovernmental organisation in areas including trade policy transparency, negotiation and dispute settlement.
Meanwhile, trade leaders from the EU, Japan and the US recently shared an update on the progress of a plan to develop a more efficient system that allows global trade to be conducted in a fairer way. The meeting followed on from one in September on the sidelines of the UN General Assembly, where the trio reiterated their call for a reform of the World Trade Organization (WTO) after China irked fellow members by allegedly failing to comply with rules the WTO needs to be reported to when a member extends subsidies to domestic industry.
"There's no doubt that we are faced, today, with an extremely difficult and complex range of challenges," Azevêdo added. "But we also have the opportunity to put the trading system on a stronger footing for the years to come. Our best response is to tackle systemic issues head on, while also advancing wherever possible in our negotiating work and other issues which are of interest to members. On all of this, the EU's leadership will be essential."
The director general also commented on the current situation regarding the impasse in appointments to the WTO Appellate Body, urging all members to keep probing for possible ways forward, and met with Romanian vice Prime Minister Ana Birchall to discuss the outlook for global trade and Romania's continued integration into the global economy.