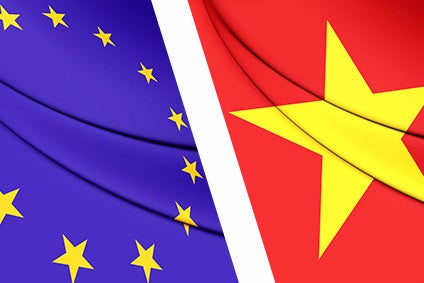 The European sporting goods industry has welcomed Parliament's backing of the EU-Vietnam Free Trade Agreement (EVFTA), calling it a "turning point" for the expansion of the sector.
MEPs gave their consent to the free trade agreement by 401 votes, 192 votes against and 40 abstentions, in Parliament today (12 February). Calling it the "most modern, comprehensive and ambitious agreement ever concluded between the EU and a developing country", the European Parliament says it will contribute to setting high standards in the region and could lead to a future region-to-region trade and investment agreement.
The agreement is split into two separate pacts: a free trade agreement, which only requires the Council's approval and the European Parliament's consent before it can enter into force; and an investment protection agreement that will replace 21 bilateral investment treaties between Vietnam and EU member states and must go through national ratification procedures in all member states before it can enter into force.
Finalised in December 2015 after several rounds of negotiation that began in 2012, the trade deal will remove virtually all tariffs between the two parties over the next ten years. The agreement is also an instrument to protect the environment and further social progress in Vietnam, including in labour rights, the resolution accompanying the consent decision states.
Vietnam is the EU's second-largest trading partner in the Association of Southeast Asian Nations (ASEAN) after Singapore, with trade in goods worth EUR47.6bn (US$51.91bn) a year and EUR3.6bn when it comes to services. The main EU imports from Vietnam include telecommunications equipment, clothing and food products.
The Federation of the European Sporting Goods Industry (FESI) applauded today's vote in favour of the ratification of the FTA, saying it will "pave the way for dynamic growth in trade relations between both parties".
"The EVFTA will bring an annual rise of 2.18% to 3.25% of Vietnam's gross domestic product (GDP) by 2023, sharply increasing both EU and Vietnam exports," explains Neil Narriman, FESI president. "The ratification of this FTA with Vietnam represents one of the biggest successes ever achieved by our industry, with the full liberalisation of athletic and sports footwear either at entry into force or in the next three years.
"Securing an open, predictable and transparent trading environment through the FTA, it will be a turning point for the textile and footwear industry, which counts more than 4,000 companies in the region. The FTA will also generate greater opportunities for Vietnamese society through more jobs and better services."
Once the Council formally concludes the trade agreement and the parties notify each other that their procedures are closed, the FTA can enter into force.