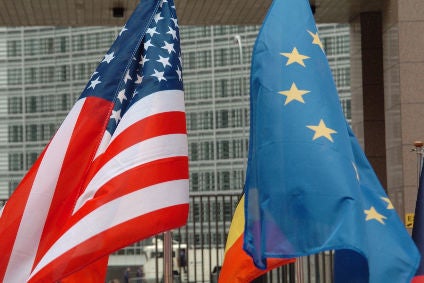 The European Union has warned it will respond to any additional US tariffs with duties of its own on US products in an ongoing trade spat over aircraft subsidies.
At the World Economic Forum in Davos, Switzerland, US President Donald Trump renewed his threats to hike tariffs if the EU does not agree to a trade deal.
But Germany's ambassador to the US, Emily Haber, warned the EU would respond "in the same dimension and the same vein" according to a Reuters report.
France's ambassador Philippe Etienne said the EU is pushing for negotiated settlements of disputes with Washington over aircraft subsidies and digital taxes, warning that escalating tit-for-tat tariffs would hurt both economies.
"It is not in our interest to have an escalation of tariffs, he said, according to the report.
In December, the US said it was considering additional tariffs on EU goods in an ongoing row over aircraft subsidies, building on a move earlier in the year that saw some clothing exports hit by additional duties of 25%. In October, the US slapped tariffs on US$7.5bn worth of goods it imports from the EU including clothing.
However, the EU Commission subsequently proposed a move that gives the bloc more freedom to impose countermeasures when it feels trade partners "do not play by the rules".
In December the Commission announced a proposal that would eliminate the requirement that a dispute go all the way through WTO proceedings before the EU can respond with steps such as increasing tariffs or imposing quantitative restrictions or public procurement restrictions. The proposal could come into effect by mid-2020 if approved by the European Parliament and Council.
Last week, the American Apparel and Footwear Association (AAFA) penned a letter to the US Trade Representative (USTR) Robert Lighthizer criticising the threatened tariff hike.
"97% of all clothes and over 99% of all handbags sold in the US today are imported, wrote Nate Herman, senior vice president, policy at the AAFA, adding wool sweaters from England and Scotland and handbags made in France "have a certain cachet with our customers, American consumers".
"As a result, US companies import a lot of handbags from France and sweaters from the UK. And our American workers design, develop, market, and sell these sweaters and handbags to American consumers.
"If a punitive tariff is imposed by the US government, our members will be forced to source fewer handbags, which will obviously lead to lower sales, which impacts our workers – American workers. Or, our members will be forced to charge higher prices, which again will lead to lower sales, which again impacts our workers – American workers."