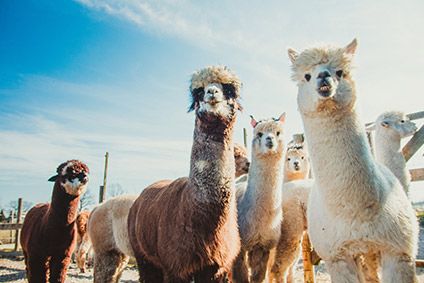 Fashion retailers including Esprit, Gap Inc and H&M Group are said to have cut ties with a leading alpaca farmer and fibre exporter in Peru following an undercover investigation by animal rights group PETA US.
In what it says is the first-ever alpaca wool exposé, workers at Mallkini – the world's largest privately owned alpaca farm in Peru – held struggling, crying alpacas by the ears as they were roughly shorn with electric clippers, causing some to vomit out of fear.
The quick, rough shearing left the animals cut up and bleeding from deep wounds, which were sewn up without adequate pain relief.
In response, PETA US says Esprit is phasing out alpaca wool. Gap Inc (which owns Banana Republic, Athleta, and other brands) and H&M Group (which owns eight brands) have cut ties with Mallkini's parent company, the Michell Group, which is the leading exporter of alpaca fibre.
The activists are also asking Peruvian authorities to investigate Mallkini for possible violations of the country's animal protection laws.
The animal rights group says that in addition to causing gentle alpacas immense suffering, the production of alpaca wool "is also terrible for the planet." The Higg Materials Sustainability Index ranked alpaca wool as the second most environmentally damaging material after silk, noting that it's six times as harmful as polyester and more than four times as damaging as modal, viscose, rayon, lyocell, acrylic, and other vegan materials.
However, annual shearing of the animals is necessary not only to obtain the fibre but also to prevent them from suffering from the heat and disease that excess hair would cause.
In its response, the Michell group says the video footage shows "unacceptable mistreatment practices carried out by negligent shearers, which go against the established procedures for shearing in our farm." It adds it has "started an exhaustive investigation" to determine the facts and to "guarantee that an event like this will never happen again."
It also says the footage is an isolated case, pointing out that all shearing processes at its operations centre in Mallkini follow the protocol of 'The Technical Norms for Shearing and Handling Alpaca Fibre Fleece' approved by the Peruvian Ministry of Production (INACAL) and which applies to the whole alpaca sector.
Mallkini is the only alpaca farm in the world with Organic Certification granted by the USDA Organic and the Organic EU Regulation, which covers the soil, breeding, handling, and shearing of alpacas. It is also open to tourists, where they can watch the shearing process.
"We guarantee our clients, collaborators and community our commitment to continuous improvement and respect for the good practices of animal treatment. We have contacted PETA in order to establish a dialogue on this matter."
As reported on just-style earlier this year, the Peruvian government has created a textile and clothing industry roundtable group charged with forging domestic backward linkages, with a focus on alpaca fibres.
Peru is the leading force in alpaca fibre production, exporting 80% of its alpaca fibre yarn, textiles and apparel – with the United States and Italy the largest markets.
In other recent campaigns, PETA has urged fashion firms to drop cashmere, and has set out cruelty claims against the UK wool industry.