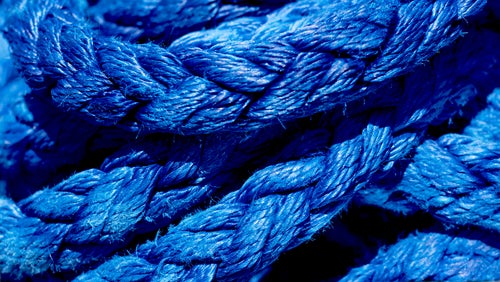 Changing Markets Foundation's Synthetics Anonymous 2.0 report suggests "a near-complete lack of progress" by the fashion industry in kicking its addiction to synthetic materials.
The report analysed 55 fashion brands on their policies in terms of synthetic materials, recycling, climate targets and their position on the key elements of the EU Textile Strategy. Of the 55 brands, just one is committed to phasing out virgin synthetics by 2030 and reducing all synthetics (virgin and recycled) to less than 1% of total sourcing by 2025.
The report comes a year after Changing Markets Foundation's Synthetics Anonymous: fashion brands' addiction to fossil fuels, with the organisation claiming brands continue to mask their addiction to synthetic fibres under the guise of commitments to increase the proportion of 'sustainable' materials, including recycled synthetics, mostly polyester and some nylon; however, green claims on polyester made from recycled PET bottles have been facing increasing scrutiny over the past year from regulators and consumers concerned about misleading environmental claims.
Changing Markets Foundation adds it has become increasingly evident that fashion brands' reliance on PET bottles as their main sustainability strategy for polyester is undermining closed-loop recycling and mandatory recycled content targets for the beverage industry. While 45 of the 55 brands (81%) have set targets to increase their recycled synthetic content, only a handful of brands are investing in real solutions, such as fibre-to-fibre recycling technology.
The majority of the industry is dragging its feet and failing to recognise that synthetics are a significant issue and a key culprit behind growing microfibre pollution, the report claims. 22 out of 55 companies (40%) landed in the Red Zone category, with little to no transparency about their strategy on synthetic fibre use, while ​​25 (45%) had no evident microfibre policies.
On a positive note, the report reveals fashion brands show significant levels of support for several of the policies that were proposed in the EU Textile Strategy, with 81% in favour of Extended Producer Responsibility (EPR), 87% in favour of matters related to eco-design, and 94% supportive of legislation to reduce the risk of false green claims. In addition, 83% were in favour of a mandatory increase in supply chain transparency – something that was not proposed in the EU's strategy. The latter indicates a significant intention-versus-action gap, given that only four companies shared their synthetic supplier lists in response to the questionnaire. However, even brands are signalling that it's time to go beyond voluntary measures and the sector needs regulation.
Changing Markets Foundation is calling for sustained regulatory pressure to rehabilitate fashion's synthetic fibre addiction and put the fashion industry on the right track.
"We are disappointed about the deepening reliance of fashion brands on dirty fossil fuels in the midst of a climate emergency. Fashion needs to clean up its act and cut its addiction to synthetics fibres, as their negative impacts are now widely documented: from microplastic pollution leaching into our rivers and oceans to piles of clothes dumped in the landfills of countries in the Global South. The report findings highlight an alarming disconnect between fashion industry's sustainability claims and targets and the lack of real measurable progress on the ground," Urska Trunk, campaign manager, Changing Markets Foundation, says.
Emily Macintosh, senior policy officer for textiles, European Environmental Bureau, adds: "With the recently proposed EU strategy, the era of companies marking their own homework is over. Brands are showing strong support for legislation, and the Commission must now ensure that brands take responsibility for wasteful fast fashion and stop the free-for-all on marketing claims that convince us products are 'green'. But it also needs to go much further to shed light on shady supply chain practices and set strong rules to tackle overproduction."
Earlier this year, a report from Changing Markets Foundation, published ahead of the EU Textile Strategy, suggested certification schemes and voluntary initiatives facilitate greenwashing in fashion.