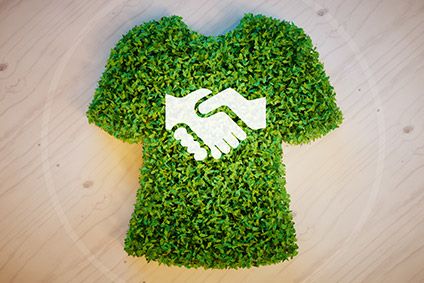 Fashion for Good, a global initiative trying to make fashion more sustainable, has welcomed five new participants to its Scaling Programme designed to fast-track the latest technologies for adoption across the apparel supply chain.
Launched in March 2017 by C&A Foundation, the corporate foundation affiliated with global retailer C&A, Fashion for Good is an industry-wide call for collaboration to help brands, retailers and manufacturers find more innovative and sustainable ways of producing fashion.
The five companies – Ecovative, Natural Fiber Welding, The Renewal Workshop, SeaChange Technologies, Inc, and Yerdle Recommerce – champion the future of good fashion from using mycelium material and fibre welding, to rethinking wastewater treatment and recommerce. They will now get the unique opportunity to connect to manufacturers, brands and investors capable of helping them fast-track the implementation and adoption of their innovations.
The innovators will be supported for a period of 18 months, with clear and jointly defined milestones on each company's roadmap to scale.
Ecovative focuses on advancing sustainable fabrication using its Mycelium Biofabrication Platform. The technology allows more control over geometry, density, size, and composition of mycelium material – resulting in Mycoflex; a high-performance foam with applications in fashion, footwear, accessories, outerwear, and lingerie. Mycoflex is sourced from agricultural waste streams, does not involve the use of any harmful chemistry, and is biodegradable.
Meanwhile, Natural Fiber Welding's patented welding processes reformat cotton and other natural fibres in such a way that short fibres can function as extra-long staple virgin fibres. This gives these materials unprecedented performance and utility and allows manufacturers to transform materials which are today considered as waste into high-performance circular yarns.
"The textile industry is over-reliant on non-biodegradable petroleum-based synthetics," says founder and CEO Luke Haverhals. "In addition, there is a gap in the industry for scalable, high-performance options for recycling natural fibers. Our solution balances performance, sustainability, scalability. Using abundant natural and scrap resources, we can tune fibers to outperform traditional textiles, making this process truly environmentally friendly."
The Renewal Workshop (TRW) provides brand-specific 'take-back' programmes so that consumers can give back their clothing to the brand when it is no longer wanted. TRW partners with the world's top brands to source apparel that is returned, damaged, defective, and post-consumer. TRW then cleans, sorts, and repairs the apparel to extend the lifetime of the product.
While SeaChange Technologies, Inc has developed a new approach to cost-effectively eliminating wastewater from the apparel supply chain. The firm has made one of the world's first mechanical, non-membrane, zero-liquid-discharge desalination systems.
Founder and CEO Dipak Mahato says: "The SeaChange process allows manufacturers to maintain their existing production capabilities, while saving money and reducing their environmental footprint."
Finally, Yerdle Recommerce has developed white-label resale channels, allowing brands to buy back and resell used items. It enables brands to take back control of the secondary marketplace, improving customer engagement and increasing profit through a circular economy approach. Yerdle takes care of the back-end work in logistics, reverse logistics, and web development to put the brand out in front.
The new signings means Fashion for Good now has 14 innovators in its Scaling Programme.