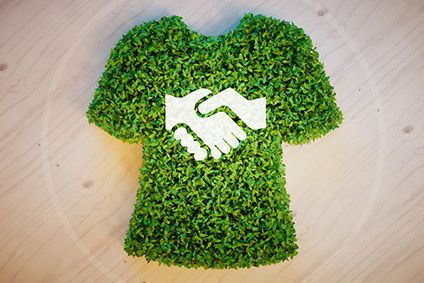 Asos, H&M Group, PVH Corp, and Kering are among the contributors of a new book released by the Ellen MacArthur Foundation that features insights from industry leaders to inspire a creative-led circular economy revolution.
'Circular Design for Fashion' aims to help creatives learn how they can become part of the transformation towards a resilient and thriving fashion industry that tackles climate change and biodiversity loss.
The Circular Design for Fashion
book, which is available now, brings together some of fashion's leading voices to set out new opportunities for creatives across the industry. The book tackles common myths and sets out the fundamental principles of circular design, which go beyond single products and services to focus on how to reshape the whole system. It explores how creatives can implement circular economy principles, and demonstrates that by viewing waste and pollution as design flaws, circular design can become the new norm.
Through examples of circular design in practice and with insights from luxury brands, including Gucci and Vivienne Westwood, independent labels such as Kevin Germanier and Marine Serre, high-street giants including Gap Inc, H&M Group, and PVH Corp., pioneers of the virtual fashion experience – Alvanon and The Fabricant, and clothing resale and rental specialists such as ThredUp and Vestiaire Collective, the book shows how creatives can transform the future of fashion, from being a major cause of global challenges like climate change and biodiversity loss, to being part of the solution.
"Every year the fashion industry produces more and more clothing that is worn less and less. This wasteful and polluting way of doing business is fuelling climate change and biodiversity loss and cannot continue in the long term. But, as this book shows, circular design gives us an incredible opportunity to change that, and build a thriving fashion industry where waste and pollution are eliminated, products and materials are circulated, and nature is regenerated," explains Elodie Rousselot, Circular Design Programme manager at the Ellen MacArthur Foundation.
Esther Verburg, EVP, sustainable business and innovation at Tommy Hilfiger, owned by PVH Corp, adds: "Circular design is the glue that holds materials, design and business models together. It empowers designers and ignites change. It motivates creatives to look at products in an entirely different way and enables access to options beyond selecting organic or recycled materials."
The book is available to buy now on Amazon for GBP34.99 (US$46.57) and from the Ellen MacArthur Foundation's website.