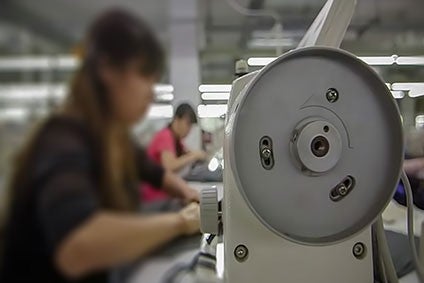 A new industry-wide initiative has launched to support female workers in the global apparel supply chain by creating a so-called ecosystem for change through collaboration between brands, non-profits, and consumers.
Spearheaded by non-profit Rockefeller Philanthropy Advisors and sponsored by apparel tags, labels and embellishments specialist Avery Dennison, Fashion Makes Change (FMC) has been described as the fashion industry's new turnkey solution that delivers both women's empowerment and climate action.
The first activation will launch on 8 March 2021 to mark International Women's Day with a programme that engages consumers to round up their purchases when shopping in-store and online or donate via a global network of retail and fashion brands.
The proceeds will be dedicated to educating and empowering women in the supply chain via the Empower@Work Collaborative that works to leverage knowledge, skills and networks to drive collective action for the benefit of women workers and gender equity in global supply chains. Empower@Work is a joint effort of the United Nations' International Labour Organization (ILO)-International Finance Corporation (IFC), Better Work, Business for Social Responsibility's (BSR) HERproject, CARE International, and Gap Inc's PACE programme,
Women are disproportionately affected by the repercussions of climate change and their voices are often missing from the decision-making process, FMC says.
"Providing educational opportunities for women in communities globally is a powerful lever for breaking the cycle of intergenerational poverty. Community builders by nature, investing in women creates profound ripple effects, making them paramount to building climate resilience."
Cara Smyth, chair of Fashion Makes Change, adds: "The truth is that the old way of doing things is not solving the problems. Incremental change isn't good enough. We are moving too slowly. Education is the great equaliser. In particular, investing in women builds resilient communities. Catalytic ecosystems that foster profound collaboration are powering the next generation of sustainability and are the only sensible path forward. We have a finite number of days before irreversible global warming. Fashion – and the world – are racing against the clock."
Fashion Makes Change answers the call by the United Nations secretary-general to advance progress on the UN Sustainable Development Goals (SDGs) and looks to all sectors of society in the next ten years to mobilise action locally and globally, to generate a movement to meet this decade of action.
The initiative strives to build communities of changemakers that will help advance progress on key development goals and ultimately efforts designed to create a more equitable and responsible apparel industry.
It will initially look to targets aligned with SDG 3, good health and well-being, SDG 4 quality education, SDG 5 on gender equality, and SDG 8 which addresses decent work and economic growth.
A number of initiatives to empower women have launched in the clothing and textile sector of late, including a new European programme to embed more gender-sensitive practices along supply chains – with a focus on the textile and clothing industry, and a gender parity roadmap developed by an industry group that includes Ralph Lauren Corporation, PVH Corp and Lacoste.
Garment manufacturing giant Epic Group is launching a training scheme for female workers to progress through the leadership roles at the company, which is the single largest producer of woven bottoms and shirts in Bangladesh.
And a consortium of US apparel retailers has pledged to help the predominantly female garment workers in supply chains across Asia.