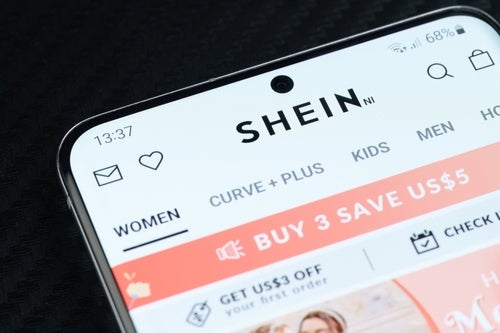 Chinese fast fashion retailer Shein has said it plans to focus more on sustainability as consumers are no longer just concerned about affordability.
Speaking at the World Retail Congress in Barcelona, executive vice chairman Donald Tang stated that to continue growing, companies need to have ESG (environmental, social, and governance) in mind, according to Reuters.
Shein sells low-cost fashion, including $10 dresses and $5 tops, and has been criticised for promoting throwaway fashion. The company produces clothing in China to sell online in the US, Europe, and Asia.
Shein is now offering customers an option to pick higher-quality materials and pay a premium for certain items. Tang also mentioned Shein Exchange, the company's platform where shoppers can resell used clothes, which launched in the US in October and aims to start in other markets this year. He added that Shein continues to grow "very robustly" and regularly has less than 2% of unsold inventory.
In 2022 Shein announced plans to reduce GHG emissions across its entire value chain by 25% by 2030 and since then it has saved 69.6 tonnes of single-use plastic waste, preventing the release of 142 tonnes of greenhouse gas emissions.
Shein's focus on sustainability comes as the fashion industry faces mounting pressure to address its impact on the environment. The sector is responsible for a significant amount of global carbon emissions and waste, and the industry's fast-paced production and consumption model has led to concerns about its impact on workers' rights and fair labour practices.
Shein, in response to this, is actively accelerating its use of responsibly sourced materials, promoting circularity across customer communities and committing to reducing over carbon footprint by 25%, according to a recent press release.
By offering sustainable options and a platform for customers to resell used clothes, Shein is taking steps to reduce its environmental impact and promote more responsible consumption. As Shein continues to grow, its focus on sustainability could set an example for other fast-fashion retailers looking to address these issues.