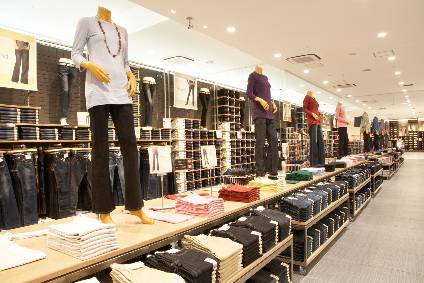 Revenues for the first nine months at Fast Retailing grew to JPY1.77trn (US$12.2bn) the retailer revealed in its results announcement.
Divisionally, Uniqlo Japan booked a 5.1% fall in revenue over the nine-month period to JPY640.9bn, as did the GU division which saw revenues slide year-on-year to JPY190.5bn.
Uniqlo International, meanwhile, saw a 13.7% rise in revenues to 841.2bn for the nine months, while Global Brands' revenue increased 11.8% to JPY90bn.
"As a united group, we are strengthening initiatives designed to expand our business operations and promote sustainability as part of our quest to become a global number one brand," Fast Retailing said in the summary of its results.
"We work hard to ensure our LifeWear ultimate everyday clothing is produced in working environments that are healthy, safe, and environmentally conscious, and strive to help solve a variety of social issues. We are currently channelling our efforts into expanding our e-commerce, Uniqlo International, and GU businesses as key pillars of operational growth.
"With regards to e-commerce, we are accelerating the building of a framework that will promote our main business by melding online and physical stores so we can offer as many of the products and information that customers want, whenever they want them. We are already pressing ahead with reforms that will enable us to offer more services that combine the strengths of our physical store and e-commerce network and unify inventory management.
"Regarding Uniqlo International, we are accelerating the opening of new stores in all markets and areas in which we operate, and seeking to instil deeper and more widespread empathy for Uniqlo's LifeWear concept by opening global flagship stores and large-format stores in the world's major cities. In terms of our Gu segment, we are working to strengthen GU's position as a brand that offers fun fashion at amazingly low prices and seeking to expand the Gu store network primarily in Japan."
Fast Retailing is now revising upwards its FY22 estimates. It expects to generate consolidated revenue of JPY2.25trn and operating profit of JPY290bn in FY22. It anticipates a full-year profit attributable to the owners of the parent of JPY250bn.
"These upward revisions were prompted by the strong third-quarter performance and the fact that performance also exceeded our forecasts in local-currency terms, as well as our decision to revise the assumed foreign exchange rate for our fourth-quarter business estimates to reflect the continued depreciation of the Japanese yen," the retailer said.
Analyst reaction
GlobalData apparel analyst, Louise Deglise-Favre observes: "The group continues to experience difficulties in its home market of Japan across its Uniqlo and Gu brands, as sales contracted 5.1% for both brands in YTD FY2021/22. While Uniqlo Japan came back to growth in Q3 with sales rising 8.7% on the year, this was not enough to compensate for its poor performance in the first half of the year, which was riddled by supply chain woes, resulting in missed sales opportunities. Uniqlo also continued to experience a slowdown in China with YTD sales decreasing 4.8% on the year due to the country's tougher COVID-19 restrictions, which forced the brand to temporarily close 169 stores between March and May. However, sales in China were still 2.0% higher than pre-pandemic levels despite this disruption, highlighting the underlying strength of the market. Fast Retailing stated that sales in Greater China improved in June after the end of Shanghai's lockdown, which is encouraging for the rest of the year, although China's zero-COVID policy means that the threat of further restrictions still looms.
"Positive performances in the rest of the world compensated for these disappointing results, most notably in North America and Europe where Uniqlo sales rose 47.5%, as the brand was able to capitalize on its LifeWear concept with consumers appreciating its comfortable and affordable range of well-made basics that taps into the ongoing casualization trend. Uniqlo's collaborations with luxury brand Marni and the Final Fantasy franchise were also well received by consumers, raising its brand awareness and providing more compelling reasons to purchase from the brand. Uniqlo also saw impressive year-on-year growth in the rest of Asia and Oceania, with sales rising 33.0% in YTD FY2021/22, most notably in Southeast Asian markets such as the Philippines, Malaysia, and Indonesia. However, sales remained 11.5% below pre-pandemic levels due to the prolonged effects of COVID-19 on the economy, especially on inflation rates."