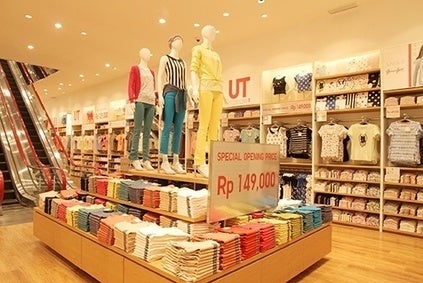 Fast Retailing said for the three months to August 2021, operating profit rose 5.6% to JPY119.4bn (US$1bn), while revenue increased 1.2% to JPY627.3bn despite declines in its Uniqlo Japan and greater China unit, as well as the GU brand.
Uniqlo Japan sales during the quarter were plagued by unseasonable weather with same-store sales contracting 7.7%. Overall revenues fell 10.8% to JPY226.4bn, while operating profit was down 18.8% to JPY48.7bn.
Uniqlo International, however, saw revenue jump 15% to JPY299.7bn and an operating increase of 44.6% to JPY59.9bn, thanks to strong sales in South/Southeast Asia and Oceania, North America, and Europe.
GU revenues, meanwhile, declined by 8.7% to JPY69.8bn. Operating profit was down 34.5% to JPY8.9bn.
First-quarter same-store sales declined year-on-year after persistently warm temperatures stifled sales of fall items and production and distribution delays resulted in a later launch of winter ranges, Fast Retailing said.
Global Brands reported increased revenue of 9.5% to JPY30.7bn and an operating profit of JPY2.5bm, moving into the black.
Fast Retailing maintained its initial estimates for FY2022 business performance announced in October.
Those estimates predict full-year consolidated revenue of JPY2.2trn (+3.1%), consolidated operating profit of JPY270bn (+8.4%), and profit attributable to owners of the parent of JPY175bn (+3.0%).
"We expect to achieve our initial estimates though we have difficulties involved in attempting to predict the future situation due to the global spread of Covid-19," the group said in a statement.
"We expect Uniqlo International will exceed our expectations for the first half of FY2022 and generate considerable increases in both revenue and profit. Looking at regional operations within the Uniqlo International segment, we expect the South/Southeast Asia and Oceania and Europe regions will report large rises in both revenue and profit, while North America is forecast to achieve a large rise in revenue and to move into the black in terms of operating profit.
"The Greater China region is expected to report a decline in revenue and a large decline in profit, while Uniqlo South Korea is seen reporting increased revenue and profit. While Uniqlo Japan is forecast to report lower revenue and a large decline in profits in the first half, we do expect the segment could attain a slightly higher performance than initially predicted.
"Our GU business segment is expected to report a decline in revenue and a large drop in profits in the first half that are roughly in line with our initial forecasts. Meanwhile, Global Brands is expected to perform roughly as planned by reporting a large increase in revenue and moving move into the black in the first half of FY2022."